IPC Powerlifting reveals plans to tackle doping
05.10.2013
Raise The Bar- Say No! to Doping will be rolled out across upcoming international competitions.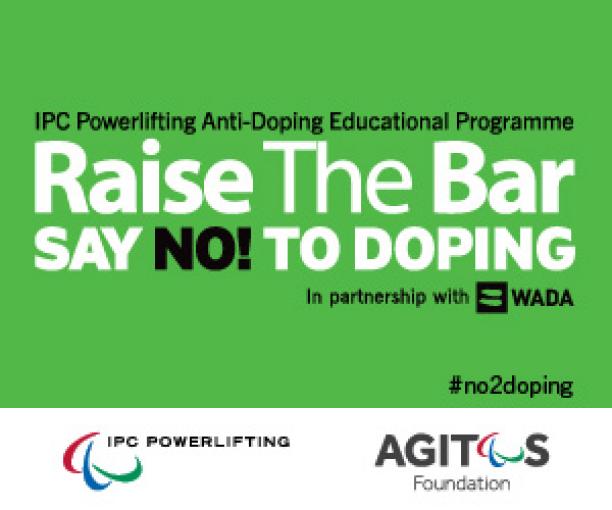 Raise The Bar aims to educate athletes, teams and coaches on anti-doping.
© • IPC
By IPC
Related Videos

Related Features
This story was amended on 15.10.2013. The name of the anti-doping programme has been changed to 'Raise The Bar - Say No! to Doping.'
IPC Powerlifting has today (4 October) announced an extensive programme of education and support to reduce doping in the sport, which will be rolled out across several upcoming international competitions, including the 2014 World Championships.
"Raise The Bar - Say No! to Doping" will be launched at the 2013 IPC Powerlifting Asian Open Powerlifting Championships in Kuala Lumpur, Malaysia on 1 November, and will cover regional championships as well as April's World Championships in Dubai, United Arab Emirates.
The programme, which will be funded by the Agitos Foundaton, not only aims to target approximately 500 lifters, but their coaches and the support networks which surround them throughout training and competition.
All groups will be provided with various opportunities to attend sessions where they will be given one-to-one education, training and practical testing of the knowledge they have gained. They will be shown the wealth of resources available through the World Anti-Doping Agency (WADA) to support them in their training regimes, and will be offered a variety of branded merchandise to show their commitment to anti-doping.
Those leading the education sessions will be respected figures with years of anti-doping experience, knowledge and expertise.
Jon Amos, Chairperson of the IPC Powerlifting Sport Technical Committee said: "We are extremely serious about tackling doping in powerlifting. It is an unwanted and unnecessary negative issue surrounding the more positive images of our sport and one that we must all share the responsibility in making sure it does not come to characterise it.
"That is why we have created this education programme - to reach out to athletes, their coaches and teams during competitions in very practical ways, and by encouraging them to demonstrate their commitment to anti-doping amongst the sport community.
"The greater majority of lifters compete with natural power so we must ensure that not only do we continue our vigilance in maintaining a level-playing field for that majority, but do our utmost to ensure that the positive image of the sport is secured for future generations of athletes who are looking towards those currently competing 'clean' as their role models."
The announcement of the "Raise The Bar - Say No! to Doping" programme comes on the same day the IPC made public that Russian powerlifter Ilnar Latypov will serve a two year suspension for an Anti-Doping Rule Violation.
Latypov returned an adverse analytical finding for dehydrochloromethyl-testoterone metabolite 18-nor-17b-hydroxymethyl-17amethyl-4-chloro-5b-androst-13-en-3a-ol in a urine sample provided on 25 May, 2013 after competing at the IPC Powerlifting European Championships in Aleksin, Russia.
This substance is included on the World Anti-Doping Agency (WADA) 2013 Prohibited List under the category S1a Exogenous Anabolic Androgenic Steroids (AAS) and is consequently prohibited under the IPC Anti-Doping Code.
In accordance with the IPC Anti-Doping Code, Ilnar Latypov will serve a two year suspension for the offence beginning on 12 June 2013; the date from which he was notified of his Anti-Doping Rule Violation. All results obtained from 25 May 2013, the date of the test and onwards, will be disqualified with all the resulting consequences including forfeiture of any medals, points, records and prizes.
This includes the silver medal he won in the men's up to 97kg class at the 2013 IPC Powerlifting European Championships.
A financial sanction of 1,500 Euros was also imposed on the athlete.