Five powerlifters with potential
25.09.2013
Five athletes who could be future medal hopes at the 2014 IPC Powerlifting World Championships in Dubai and at Rio 2016.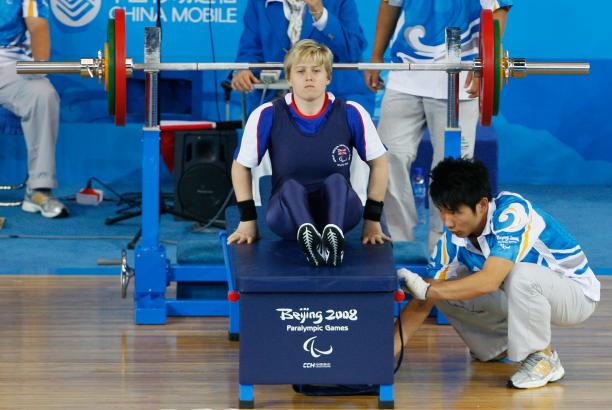 Natalie Blake of Great Britain prepares hereself for a lift in the women's 48kg group A powerlifting competition at the Beijing University of Aeronautics & Astronautics Gymnasium during day four of the 2008 Paralympic Games on September 10, 2008 in Beijing, China.
© • Getty
By Luke Jackson
The 18 year-old also went on to finish fifth in the senior competition and he is recognised as a serious prospect for the 2016 Paralympic Games in Rio.
2013 saw the IPC Powerlifting European Championships take place in Aleksin, Russia. With over 130 athletes from 27 countries competing, the top five most promising athletes to emerge will be vying for position at the 2014 IPC Powerlifting World Championships in April.
Maryna Kopiika
At the age of 22, Maryna Kopiika of Ukraine is one of the youngest athletes on the senior female powerlifting circuit. However, despite being relatively inexperienced compared to her rivals in the -40kg category, she left this year's European Championships in Aleksin, Russia with a silver medal, falling just short behind Turkey's seemingly unstoppable Nazmiye Muslu. After a disappointing performance at the London 2012 Paralympic Games, Kopiika will be vying to claim a medal at the next games in Rio and with a few more years worth of experience behind her, she will undoubtedly pose the biggest threat to Muslu's Paralympic crown.
Julien Avon Mbume
France sent four athletes to the 2013 IPC Powerlifting European Championships and they had very high hopes of a successful competition with highly respected powerlifters, Souhad Ghazouani and Patrick Ardon, leading the way for them. Nevertheless, it was Julien Avon Mbume who really stepped up to the plate for his country by becoming the -80kg European junior champion with a lift of 150kg. The 18 year-old also went on to finish fifth in the senior competition and he is recognised as a serious prospect for the 2016 Paralympic Games in Rio.
Elshan Huseynov
Elshan Huseynov narrowly missed out on a medal place at the London Paralympics as he finished fourth in the -100kg category. All the same, this year has seen the much improved Azerbaijani go from strength to strength and he blasted away the competition to win European gold in Russia. By doing so he could well be the man to beat at the Paralympics in three years time.
Natalie Blake
Team GB's Natalie Blake has been a member of the squad since 1999. She has taken part in four Paralympic games during her career thus far, and each time she has represented her country a place on the podium has always eluded her. Things changed at this year's European Championships though as she won a silver medal, suggesting that she may well be enjoying an Indian summer in the latter stages of her career. By performing so well in Russia, Blake has emerged as one to watch in the -50kg category and she will be hoping that it will be fifth time lucky for herself in Rio.
Vladamir Krivulya
Considering that some elite level powerlifters continue performing into their 40s and 50s, at 22 years old, Vladamir Krivulya performed magnificently to bag himself a bronze medal in the -54kg weight category at London 2012. No less than a year later, the Russian broke the European record and snatched a gold medal in front of his home crowd to cement his place as one of the most promising young powerlifters in the sport.
The next big powerlifting Championships will be the 2013 Asian Open Championships from 3-7 November in Kuala Lumpur, Malaysia.
The 2014 IPC Powerlifting World Championships will take place in Dubai, United Arab Emirates from 5-11 April.