China prove dominant at Wheelchair Fencing World Cup in Montreal
05.05.2015
The IWAS World Cup in Montreal, Canada saw a fierce contest between the sport's best – China and Russia.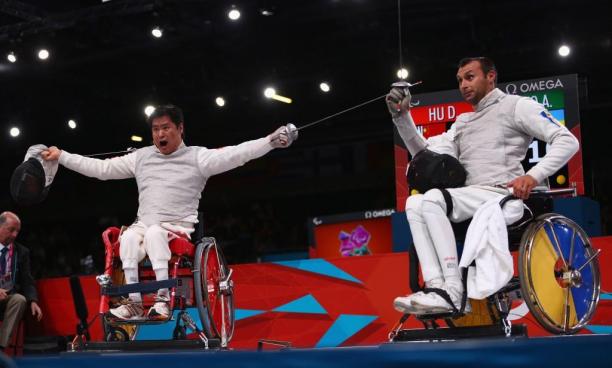 Daoliang Hu (L) of China celebrates winning gold against Anton Datsko (R) of Ukraine during the Men's Individual Foil Category B final of the Wheelchair Fencing on day 6 of the London 2012 Paralympic Games.
© • Getty Images
By Mike Stuart | For the IPC
"It's tough to be in this situation especially in front of family and friends."
Following the Americas Championships last week, wheelchair fencing action stayed in Montreal, Canada as the world's best wheelchair fencers gathered for the International Wheelchair and Amputee Sports Federation (IWAS) Wheelchair Fencing World Cup (1-3 May).
The event was an important step on the road to the Rio 2016 Paralympic Games. And it came to no surprise that powerhouses China and Russia duked it out for the podium.
Both nations combined for 20 individual medals (10 each). But it was China who went home with five gold medals; Russia claimed one.
China's dominance was particularly apparent in the foil events. In the men's category A competition, reigning Paralympic champion Ruyi Ye beat compatriot Gang Sun in the final.
The Chinese won gold in the equivalent category B event too, as Daoliang Hu, also a gold-medal winner at London 2012, took the prize.
In the women's category A foil event, China's Jing Rong retained the title she won last year by defeating Hong Kong, China star Yu Chui Yee.
China also edged out the victory in the men's team foil event, defeating Russia 54-4.
Surprising results
China also saw new talents emerging in their ranks.
In the category A epee event, Chunchui Zhang shocked Russia's established World No.2 Yuliya Efimova to win her first major title.
There was another upset in the men's category B epee event, where Great Britain's Dimitri Coutya won a senior World Cup gold for the first time. Coutya was not fazed by taking on Russian World No.1 Alexander Kuzyukov in the final, as he pulled out the 15-8 victory.
Meanwhile, there was disappointment for Coutya's British teammate Piers Gilliver, who narrowly missed out on a fourth consecutive World Cup podium place. Gilliver finished fifth in the category A epee event, which was eventually won by Russian's Roman Fedyaev.
No home-country advantage
Canadian medal hopeful Pierre Mainville could not overcome the tendonitis in his right arm, as he took eleventh place in the men's category B sabre competition.
"It's tough to be in this situation especially in front of family and friends," said Mainville, who will now take some time to rest before competing again.
Canada's Ruth Sylvie Morel, who won two medals at the Americas Championships last week, was unable to repeat her heroics, finishing sixth and seventeenth in the category A sabre and epee events, respectively.
Attention now turns to the IWAS World Cup event in Pisa, Italy (22-24 May). All eyes will be on Italian favourite Beatrice Vio, who won gold in Montreal in the category B epee event. Vio never dropped more than seven points on her way to the podium. After her performance over the weekend, Vio looked in good form to repeat that feat in three weeks' time.