Canadian Nordic skiers break through at World Cup finals
17.01.2014
Two first places for Brian Mckeever and Chris Klebl in long distance freestyle races at cross-country World Cup finals.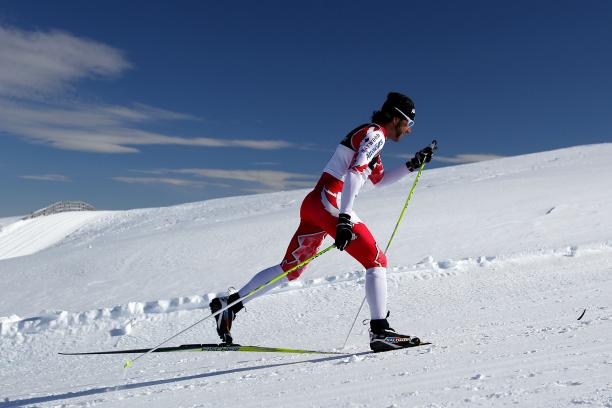 Brian McKeever won his third race of the week in the men's standing cross-country free technique during the 2012-13 IPC Nordic Skiing World Cup in Cable, Wisconsin, USA.
© • Getty Images
By IPC
Canada's seven-time cross-country Paralympic champion Brian McKeever looks unstoppable in his quest for yet another Paralympic gold at Sochi 2014, following a second World Cup win at the cross-country finals of the IPC Nordic Skiing World Cup in Oberstdorf, Germany.
Mckeever (49:27.3), who also holds two world titles in long distance freestyle and sprint classic visually impaired events, took well to the long distance 15km course under cloudy skies with guide Eric Carleton and managed to hold off a double Russian charge from middle distance world champion Nikolay Polukhin with guide Andrey Tokarev (50:11.9) and Stanislav Choklaev (51:32.9), guided by Maksim Pirogov.
He was joined in the winners club by former 15km sit-ski world champion teammate Chris Klebl, who himself did well to keep the host team of Sochi 2014 at bay in 36:52.6. Reigning long distance world champion Roman Petushkov could only manage a third place on the podium this time (37:33.), behind Ukrainian Maksim Yarovyi (36:56.0).
In the women's 12km sit-ski race, German Andrea Eskau came through on top (33:21.4) at her home competition, edging out Norway's current World Cup No. 1 Mariann Marthinsen who finished an eventual fourth. The podium spoils were left to Vancouver 2010 biathlon bronze medallist Lyudmyla Pavlenko in second (33:26.1) and an encouraging third place finish from American London 2012 rowing medallist Oksana Masters (34:47.1).
Russian World champion and current No. 1 Elena Remizova took first place in the women's visually impaired with guide Natalia Yakimov (43:02.9). The 27-year-old was followed by teammate Iuliia Budaleeva, guided by Tatiana Maltseva in 43:57.7 and Ukrainian Oksana Syshkova and guide Lada Nesterenko (44:33.8). Five-time world champion Russian Mikhalina Lysova and guide Alexey Ivanov did not start the race.
Ukraine's Iuliia Batenkova had a bad day at the office in the women's standing race, with the world champion over the long distance pushed out into third by first-placed team-mate Oleksandra Kononova in 43:00.1 and Russia's Anna Milenina (43:36.3) in second. Current No. 1 Alena Kaufman suffered an even worse race and finished in sixth.
The men's standing event saw a close finish between Russian Rushan Minnegulov (50:32.7) and Ukraine's middle distance biathlon world champion Ihor Reptyukh (50:53.3), with the two men finishing just over 0.20 seconds apart. Minnegulov has finished in the top three four times in World Cups in Canmore, Canada, and Vuokatti, Finland, but this is his first number one ranking. Minnegulov's teammate Kirill Mykhaylov completes the podium in third (53:30.1).
Cross-country races continue on Saturday (18 January) with sprint freestyle, and conclude on Sunday (19 January) with the middle distance classic.
The last IPC Nordic Skiing biathlon World Cup takes places in Oberried, Germany from 23-26 January.