PARA NORDIC SKIING

Oksana Masters
19 June 1989 Khmelnytskyi, Ukraine
LATEST TRIUMPHS:

PyeongChang 2018 Paralympic Winter Games – Gold: cross-country middle distance, cross-country sprint; Silver: biathlon sprint, biathlon long distance; Bronze: cross-country long distance

2017 World Para Nordic Skiing Championships: Gold - cross-country sprint freestyle, middle distance freestyle and long distance classic and biathlon middle distance; Bronze - biathlon long distance

2015 IPC Nordic Skiing World Championships: Silver - cross-country middle distance classic; Bronze - cross-country sprint

2014-15 IPC Cross-Country World Cup: Overall winner

Sochi 2014 Paralympic Winter Games: Silver - cross-country long distance; Bronze - cross-country middle distance
Find out about the full career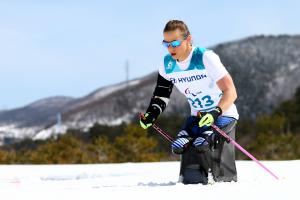 Oksana Masters is just returning to competition after an injury that jeopardised her participation at PyeongChang 2018. The US Nordic skier prefers to take it slowly, which is why she decided not to take part in all events at the 2018-19 World Cup circuit.
Masters still managed to win three golds, three silvers and one bronze.
Only weeks before the Opening Ceremony of the 2018 Paralympic Winter Games, she dislocated her elbow and thought all her hard work would be for nothing.
With the support of her team and closest people, she recovered just in time to compete in South Korea. Despite feeling constant pain, Masters won double gold in the women's cross-country middle distance and sprint sitting.
She followed that up with silver in the biathlon sprint and long distance, and bronze in the cross-country long distance.
In 2017, an impressive performance saw her power to the top of the podium four times at the World Championships in Finsterau, Germany - and a sweep of the cross-country events.
It also included a gold in biathlon, something which Masters herself said she could not quite believe having previously struggled with shooting. A win of the cross-country World Cup rounded off an excellent season in addition to a top three finish in biathlon.
Originally from Ukraine, Masters' well-documented life story includes being exposed to radiation from the infamous Chernobyl nuclear power plant explosion and being sent to live in an orphanage after being born with limb impairments.
Masters started rowing when she was 14 years old after being adopted by a US woman. Soon after her bronze medal-winning performance at London 2012 with rowing partner Rob Jones, which propelled her to national fame and an appearance in ESPN's The Body Issue, Masters decided a change of sport was needed and set about learning Nordic skiing.
In 2013, she was named to the US Paralympics Nordic Skiing Development Team.
After an incredibly successful first season on the World Cup circuit in 2013-14, finishing as world No.6, Masters got her ticket to Sochi 2014.
She went on to beat the likes of world No.1 Andrea Eskau of Germany and world No.2 - Norway's Mariann Marthinsen - to claim silver in the cross-country long distance.
She also won bronze in the cross-country middle distance.
To round-off a whirlwind couple of seasons, Masters got the chance to compete at home at the 2015 World Championships, where she won a silver and bronze medal in cross-country events.