PARA NORDIC SKIING

Oleksandra Kononova
28 February 1991 Kiev, Ukraine
LATEST TRIUMPHS:

2017 World Para Nordic Skiing World Championships: Gold - middle distance freestyle, long distance classic and 4 x 2.5km mixed relay cross-country and middle distance biathlon; Silver - sprint freestyle cross-country and short distance biathlon

2015 IPC Nordic Skiing World Championships: Gold - sprint, middle and long distance biathlon; Gold - long distance freestyle, sprint classic, middle distance classic; Silver - 4 x 2.5km relay cross-country events

Sochi 2014 Paralympic Games: Gold - long distance biathlon; Silver - middle distance biathlon; Bronze - middle distance freestyle cross-country

2013 IPC Nordic Skiing World Championships: Gold - sprint classic; Silver - long distance freestyle cross-country; Bronze - sprint and middle distance biathlon and sprint classic cross-country

2011 IPC Nordic Skiing World Championships: Gold - sprint and long distance biathlon, sprint classic and long distance freestyle cross-country; Silver - middle distance and 3x2.5km cross-country relay; Bronze - 3km biathlon
Find out about the full career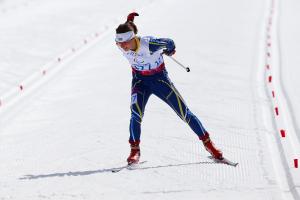 It was hard to see Oleksandra Kononova miss the 2017-18 season, including the Paralympic Winter Games in PyeongChang, South Korea, due to health-related issues. The Ukrainian Nordic skier had dominated the women's standing category for years.
But she seems to be back into full form as she secured six wins across biathlon and cross-country events over two World Cups in the 2018-19 season.
The last major competition Kononova shone at was the 2017 World Championships, where she claimed six medals including three individual world titles in both cross-country and biathlon.
She also finished top of both the overall women's biathlon and cross-country standing World Cup rankings.
But Kononova has followed a long path before becoming one of her country's best Nordic skiers.
As the youngest member of the team at Vancouver 2010 at just 19-years-old, she picked up three golds in the women's biathlon long distance, as well as the cross-country sprint and middle distance.
In the following year, she added one more gold to that tally in biathlon at her second World Championships.
Abandoned by her parents as a baby and raised by her grandmother, a bone infection in her right hand caused a reduction in growth that worsened as she grew older.
At Sochi 2014, Kononova won biathlon long distance gold yet again, while also winning silver in the biathlon middle distance and cross-country sprint.
In 2015, she followed that up with an incredible six world titles across cross-country and biathlon. In addition, Kononova won the overall biathlon World Cup and finished a strong third in the cross-country edition.
In 2015-16, the Ukrainian finished third overall in both the biathlon and cross-country World Cups.