7: First IPC-IOC Agreement
16.09.2014
A historic Memorandum of Understanding was signed by the IPC and IOC in 2000 providing the foundation of their future relationship.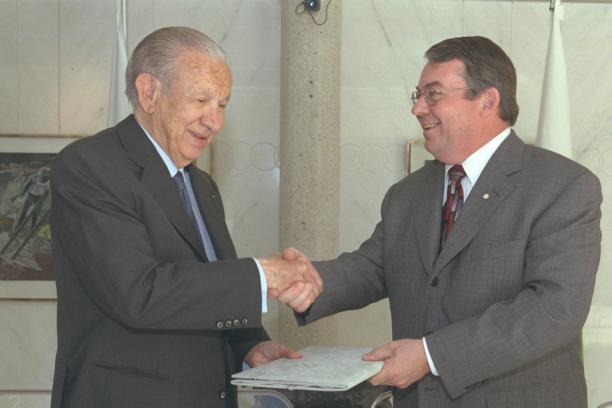 Juan Antonio Samaranch and Bob Steadward sign first IOC-IPC Agreement
© • IOC
By IPC
After years of informally working together, the IPC and IOC signed a historic Memorandum of Understanding in 2000 – covering the basic principles and relationships between the two bodies.
Signed by founding IPC President Dr Bob Steadward and IOC President Juan Antonio Samaranch, the agreement arose from the IOC 2000 Commission, of which Dr Steadward was a member.
The Commission recommended that:
• The Paralympics must be organised in the same city as the Olympic Games, and that the obligation for the host city to organise the Paralympic Games must be included in the Host City Contract
• The Paralympic Games will always follow the Olympic Games
• The IPC will have a representative in both the IOC Evaluation Commission and the Co-ordination Commission
• The Paralympic Movement, through a member of the IPC and Paralympic athletes, could be represented in the IOC. Similarly, the Olympic Movement could be represented in the IPC.
The Memorandum of Understanding was in two parts, the first of which was signed during the Sydney 2000 Paralympics.
It included statements of shared philosophy, which made clear that both organisations support 'the right of all human beings to pursue their physical and intellectual development.'
It also included matters of protocol, accreditation, funding, administrative relationships with staff, and information technology.
In October 2000 Dr Steadward was elected an IOC member, a role Sir Philip Craven was also elected to when he took over as IPC President in 2001.
The second part of the Agreement was signed in June 2001, and protected the future of the Paralympic Games.
It formalised the practice of "One Bid, One City" and meant that any city hosting, or bidding for, the Olympic Games automatically had to include the Paralympics too.
Since the historic first agreement in 2000, the IPC's relationship with the IOC has grown stronger each year.
The "One Bid, One City" concept has been extended on a number of occasions, most recently in June 2012 to cover the 2018 and 2020 Games.
The latest agreement, signed prior to the London 2012 Olympics, also provides the IPC with greater financial support, brand protection for the Paralympic Movement, and includes further co-operation in a range of other areas.