Van Dyk retires from cycling after winning gold
01.01.2017
The South African announced his retirement from cycling following his Paralympic gold-medal performance in the men's road race H5 at Rio 2016.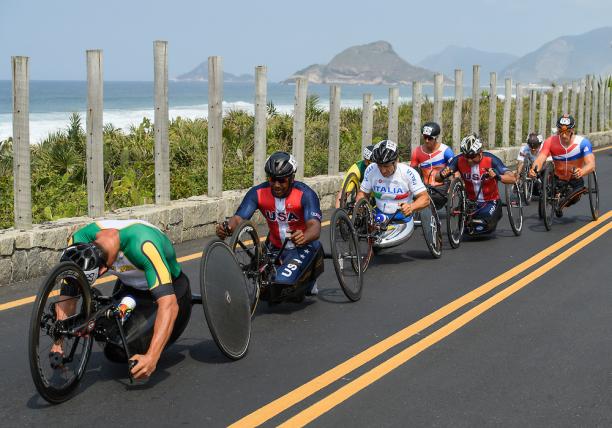 Ernst Van Dyk RSA (left) competes in the Men's Cycling Road Race H5 at Pontal ahead of Alfredo De Los Santos USA and Alessandro Zanardi ITA (centre).
© • Thomas Lovelock for OIS/IOC
By Poppy Penny | For the IPC
"Our achievements are recognised at an equal level with our abled bodied counterparts."
After claiming his second Paralympic gold at Rio 2016, South Africa's Ernst van Dyk decided to put an end to his cycling career and fully focus on athletics, the other sport he practises.
The 43-year-old won the men's road race H5 with a time of 1:37.49 ahead of Italian legend Alex Zanardi to crown years of meticulous planning and sacrifice.
"The effort was totally worth it," said van Dyk, who sealed two golds, three silvers and three bronzes over seven Paralympic Games.
"My goal was to get to Rio with equipment that could compete with the best guys but also to be physically as prepared as possible."
Van Dyk believes this Paralympic Games offered facilities of a very high standard and "the locals were really getting into the Paralympics and the atmosphere they created was very special."
The South African made his Paralympic debut at Barcelona 1992 and has seen first-hand the tremendous growth of the Movement over the years, particularly in his country.
"We have a lot of media interest after the events, not just the Paralympics. And our achievements are recognised at an equal level with our abled bodied counterparts," said van Dyk.
He also sees a global shift, with an increasing demand for live Para sport on television and growth on social media.
After 24 years in the sport, he said: "this is a lifestyle you either hate or love; for me it became a way of life." With self-discipline and dedication, van Dyk has managed to stay on top of his game, and loved every minute of it.
"The guys and girls I compete with became like a second family," he said. "We share meals, hotels and stories all the time when we are on the road. Sometimes you even end up missing them during the off season."
Van Dyk has now retired from competitive cycling, but plans to focus the final years of his career on the marathon.
"I have a fantastic opportunity and this excites me a lot," he said.