Ulset highlights competition ahead of Nordic ski season
25.11.2014
Norway's reigning world champion Nils-Erik Ulset on the threat of Russia's Azat Karachurin and Canadian Mark Arendz.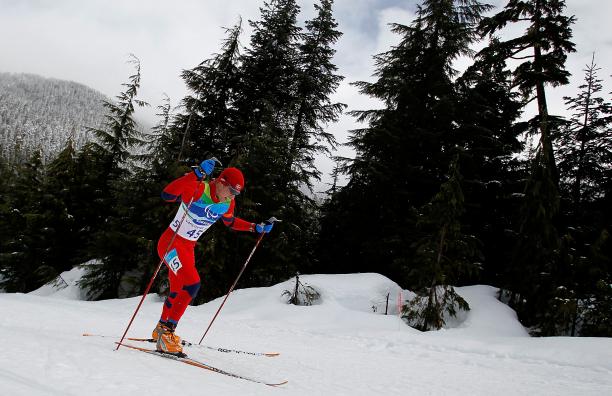 Nils-Erik Ulset is a three-time Paralympic and world champion.
© • Getty Images
By Richard Waterhouse | For the IPC
"For me it doesn't matter if it's one watching the event or if it is 5,000 – I just love racing. As soon as I start racing I don't focus on anything else other than the race. "
Norwegian biathlete Nils-Erik Ulset has identified young Russian Paralympic champion Azat Karachurin as one of the men to beat at January's IPC Nordic Skiing World Championships, in what will be one of the most competitive fields he has raced in.
Ulset, who made his international debut in 2002, was impressed by 19-year-old Karachurin following his five 2013-14 IPC Nordic Skiing World Cup wins and he has pinned him as one of the favourites.
"You can't not mention the Russians like Azat Karachurin," Ulset began. "He basically won every World Cup race we had but at the same time I don't think he is unbeatable, I beat him in one race [15km biathlon standing] in Sochi."
Canadian 7.5km biathlon standing world champion Mark Arendz has recently commented that there is an 'extremely deep' field in the biathlon events and everyone is a rival. Ulset agrees with his fellow competitor who he also considers as one of them.
"I think Mark wants me to say him but I don't really see anybody as a bigger rival because the level is so high now and there are so many good guys. I can't just focus on one guy."
The 31-year-old revealed that he is planning on competing in all the biathlon events at the Worlds in Cable, Wisconsin, from 23 January-1 February where he will defend his 15km biathlon standing title.
He won two biathlon silver medals over 12.5km and 15km and a bronze medal in the 4 x 2.5km mixed cross-country relay at the Paralympic Winter Games in Sochi. Ulset loved the experience, claiming it was up there with Vancouver 2010 where he won a gold in the 12.5km individual biathlon standing as well as two silvers and a bronze medal.
"It was fun. Coming into the Games in Sochi we didn't really know what to expect but the audience there were just awesome and everything was pretty great. It was probably one of the best events I have been at.
"In Vancouver I had so much success as that was the last time I won a gold medal and I really, really enjoy racing in Canada and in North America. The surroundings in Vancouver were amazing so I would probably say that was my favourite event but Sochi is definitely up there."
The last Paralympic Winter Games really helped raise the profile of Nordic skiing and with the World Championships coming to North America, the event could attract large crowds. Ulset admits this is great for the sport but feels this has no effect on his racing.
"For me it doesn't matter if it's one watching the event or if it is 5,000 – I just love racing. As soon as I start racing I don't focus on anything else other than the race. "
Ulset, who currently skis part time, is looking to go full time until the end of his career but admits it is hard for him and other para-athletes.
"I am trying from this season to ski as much as possible but we don't have the funding like Russia where they are paid to be on the team," he said. "It's harder in Norway to get sponsors because they have to pay the same for us as they have to for an able bodied athlete so it's more attractive for them to go to able bodied sports."
Ulset will be hoping to attract more attention when he gets back on the track at Cable 2015.
The 2014-15 IPC Nordic Skiing season kicks off from 10-17 December with a World Cup in Vuokatti, Finland, before 150 athletes from 20 countries gather in Cable for the biggest Nordic skiing competition since Sochi 2014.