PARA NORDIC SKIING

Mark Arendz
3 March 1990 Charlottetown, Canada
LATEST TRIUMPHS:

PyeongChang 2018 Paralympic Winter Games – Gold: biathlon long distance; Silver: biathlon sprint, cross-country mixed relay; Bronze: biathlon middle distance, cross-country middle distance, cross-country sprint

2017 World Para Nordic Skiing Championships: Gold - biathlon middle distance and sprint; Silver - biathlon individual; Bronze - cross-country middle distance and open relay

2016-17 Biathlon World Cup: Overall second

Sochi 2014 Paralympic Winter Games: Silver - biathlon short distance; Bronze - biathlon middle distance

2013 IPC Nordic Skiing World Championships: Gold - short distance biathlon; Bronze - middle and long distance biathlon
Find out about the full career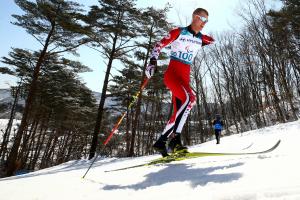 Mark Arendz had a promising start to the season. The Canadian won gold in the men's cross-country middle distance standing at the World Cup in Vuokatti, Finland. He also claimed two silvers and one bronze in biathlon.
It was his return to competition after a superb performance at PyeongChang 2018, where he became the first Canadian to win six medals overall at a single edition of the Winter Paralympics.
Arendz won his maiden Winter Paralympic title in the biathlon long distance. The Nordic skier went on to seal silver in the biathlon sprint and cross-country mixed relay; and bronze in the biathlon middle distance, and cross-country middle distance and sprint races.
Before that, Arendz celebrated two golds, one silver and one bronze at Finsterau 2017, his best performance at a World Championships. He was the fastest in both the biathlon middle distance and sprint events.
He also finished second in the 2016-2017 Biathlon World Cup overall rankings.
Arendz has competed at two other Paralympic Winter Games: Vancouver 2010 and Sochi 2014, where he won one silver and one bronze in biathlon. He was also named 2014 Senior Male Athlete of the Year in Prince Edward Island, Canada.
He first tried skiing at age five. Two years later, he was involved in a farm accident which resulted in the amputation of his left arm above the elbow. He was attempting to put corn into a corn auger and lost his balance.
Arendz still continued practising the sport, even taking part in able-bodied skiing competitions. After watching the Salt Lake City 2002 Olympic Games, he became especially interested in biathlon.
He developed a deep sense of community after neighbouring farmers, friends and strangers from his hometown helped his family while he was recovering from the amputation of his arm following his accident.
"After my accident, I quickly witnessed how a community comes together through a traumatic time. Since then I have always been driven to give back to that community."
In 2014 he worked with charitable organisation SchoolBOX in Nicaragua, where he helped build a school for a community that had been affected by a landslide.
Follow us on Facebook
Follow us on Twitter