Ukraine Triumphs at IPC Swimming European Championships
11.07.2011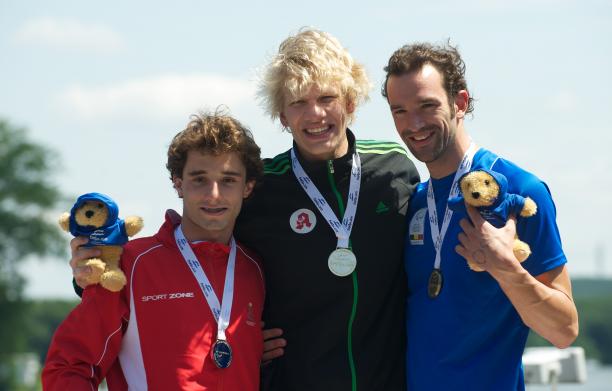 Lucas Ludwig (GER), Emanuel Goncalves (POR) and Sven Decaesstrecker (BEL) celebrates their victory at the S10 Open Water race at the 2011 IPC Swimming European Championships
© • Camera4
By IPC
Ukraine was the outright winner of the IPC Swimming European Championships, having dominated the event from the very start. Their team won 41 gold, 37 silver and 28 bronze medals. In second position was Great Britain with 27 golds, and Spain came just behind with 26 gold medals.
On Sunday, the final day of the championships, it was Germany's Lucas Ludwig (1:05:45.7) who stole the show in front of a German-heavy home crowd in Grünau, Berlin. He took gold in the Men's 5km Open Water S10. Taking silver was Portugal's Emanuel Goncalves (1:05:55.9), and the bronze medal went to Belgium's Sven Decaesstecker (1:05.59.6).
Spain's Enrique Florina (1:05:42.2) took gold in the Men's Open Water S13, and Sanja Milojevic (1:14:48.8) was the winner of the Women's Open Water S10, with Hungary's Judit Tarjanyi (1:26:12.2) taking silver.
In eight days of competition 59 European records have been broken, of which 31 were also world records.
In his closing ceremony speech, Andre Cats, Head of Competition on the IPC Swimming Technical Committee paid tribute to the performance of the athletes.
"Last Saturday evening Xavier Gonzalez, the IPC's Chief Executive Officer, said that this competition would be the biggest ever in terms of participating athletes and countries, as well as attending media. One week on, I am pleased to say this Championships was also one of the best ever in terms of athlete performance."
Out of the 36 National Paralympic Committees taking part, 31 went home with at least one medal.
Andre Cats also paid tribute to the host of volunteers, many of whom had taken anual leave from their paid jobs to be able to volunteer there:
"I would like to thank the unsung heroes of the event - the volunteers. Whether you are a technical official or classifier, flag bearer or steward, no matter what your role, your work here has been invaluable and I would like to thank you from the bottom of the heart."