Top para-sport stories of the week
25.10.2014
Major Championships announced, a series of world records at Incheon 2014 and partnership agreements are all highlights from the past seven days.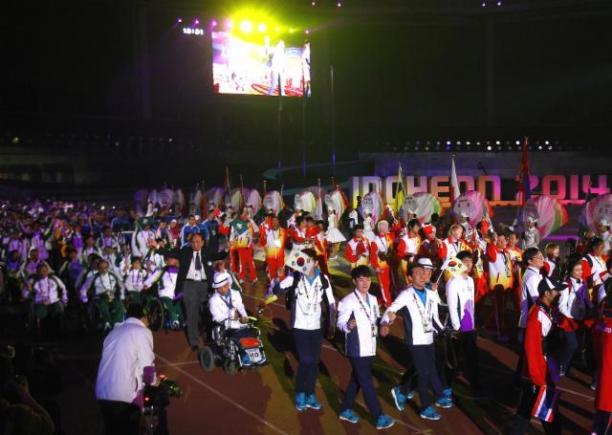 China topped the medals table at the Incheon 2014 Asian Para Games.
© • Incheon 2014
By IPC
A total of 18 out of the 24 available gold medals available at Incheon 2014 were won by Chinese fencers.
The last seven days around para-sport have seen two major Championships announced and an extended sponsorship agreement signed, as well as some outstanding performances at the Incheon 2014 Asian Para Games.
Here are the top seven stories of the week:
Incheon 2014 Asian Para Games come to a close
China topped the medals table as the 2014 Incheon Asian Para Games in South Korea came to a close.
They won a staggering 317 medals, including 174 gold, 95 silver and 48 bronze. Second were hosts South Korea, winning 211 (72 gold, 62 silver, 77 bronze).
The competition also saw an incredible 24 world records broken or equalled, and 121 new Asian records.
Chinese swimmer Furong Lin was the most decorated athlete, winning six gold medals.
Dubai to host first ever IPC Athletics Asia-Oceania Championships
Dubai, United Arab Emirates, will stage the first ever IPC Athletics Asia-Oceania Championships between 3-8 March 2016.
As part of IPC Athletics' strategy to provide more high level competition opportunities for para-athletes around the world, the Asia-Oceania Championships is expected to attract around 600 athletes from 45 countries.
Chinese wheelchair fencers dominate at Incheon 2014
A total of 18 out of the 24 available gold medals available at Incheon 2014 were won by Chinese fencers.
The team picked up seven men's titles and 11 women's with a series of Paralympic champions on form.
Stand out performances include Jing Rong, who beat seven-time Paralympic champion Yu Chui Li of Hong Kong, China, in the category A foil.
London to stage IPC Athletics Marathon World Championships
IPC Athletics, the international federation for para-athletics, has announced that the 2015 IPC Athletics Marathon World Championships will be held in London, Great Britain, on Sunday 26 April in association with the Virgin Money London Marathon.
Up to 12 different medal events will take place, including six events for male para-athletes and six for females, should they meet the minimum viability criteria.
Samsung Electronics Extends Worldwide Paralympic Partnership
Samsung Electronics Co. Ltd. has extended its partnership with the International Paralympic Committee (IPC) as a Worldwide Paralympic Partner through until the Tokyo 2020 Paralympic Games.
For the next six years of this agreement, Samsung, who has sponsored the IPC since 2006, will remain as one of the IPC's Official Worldwide Paralympic Partners and will expand after 2016 its category of sponsorship to the "Wireless Communications Equipment and Computing Equipment", including smartphones, tablets, laptops, personal computers and other computing equipment, and desktop printers.
Iran's Javanmardidodmani breaks two shooting world records
Iran's world champion pistol shooter Sareh Javanmardidodmani smashed the P4 (mixed 50m pistol SH1) and P2 (women's 10m air pistol SH1) world records on Sunday (19 October) and Monday (20 October) at the Incheon 2014 Asian Para Games.
Javanmardidodmani, who collected her first world title at July's IPC Shooting World Championships in Suhl, Germany, in P2, looked stunned after adding 8.7 points to the previous P4 record with a score of 192.8.
She also took the P2 mark with a score of 200.4 to help Iran to third place in the shooting medals table.
IPC Powerlifting announces historic partnership with Eleiko, world's strongest Paralympian breaks world record three times
The international federation of para-powerlifting, IPC Powerlifting, announced a five -year partnership on Wednesday (22 October) with globally recognised lifting equipment manufacturer Eleiko.
The deal will see the Swedish-based company, which has a long and illustrious history in weightlifting, provide equipment for all World and regional championships until 2018. Eleiko will also work with IPC Powerlifting to create more awareness of the sport to a new generation of fans from around the world.
The sport created further headlines with Iranian world and Paralympic champion Siamand Rahman breaking the men's over 107kg world record three times at Incheon 2014. His fourth lift of 292.0kg brings him closer to his 300kg target.