#SuperheroSunday: Ilse Hayes
03.05.2015
The South African who recently became the world's fastest female Paralympian shares with us her three heroes.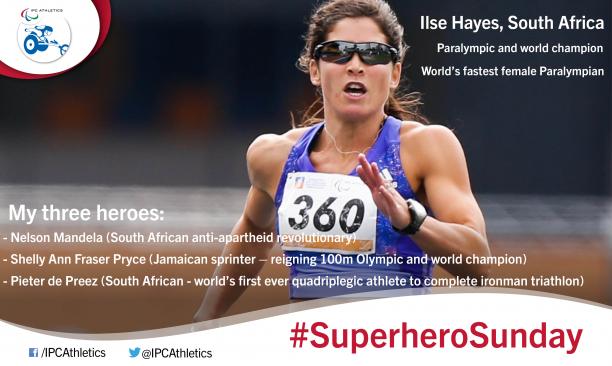 World's fastest female Paralympian, Ilse Hayes, gives an insight into her three heroes.
© • Getty Images
By IPC
It is time for Superhero Sunday, and who better to hear from than South African Ilse Hayes, who became the fastest female para-athlete in world when she sprinted to victory at the IPC Athletics Grand Prix in Sao Paulo, Brazil last month (Thursday 23 April).
Hayes clocked a remarkable 11.89 seconds in the 100m T13 - knocking 0.1 off the previous T13 record set in 2011 by Cuba's Omara Durand, and 0.02 faster than the T12 world record held by China's Guohua Zhou, who was previously the world's fastest female para-athlete.
The 29-year-old, who won long jump T13 gold and 100m T13 silver at both the London 2012 Paralympic Games and 2013 IPC Athletics World Championships, is sure to be an inspiration to many. Here she reveals her heroes.
Nelson Mandela (South African anti-apartheid revolutionary)
He was such an inspirational man for me. All the things he conquered in his lifetime left a lasting legacy, one we'll never forget. It's amazing how he wanted peace and equality and his mission was accomplished when he made it his goal to unite the people of our nation.
Shelly Ann Fraser Pryce (Jamaican sprinter – reigning 100m Olympic and world champion)
I just love how she always captures the crowd with her massive smile and warm personality. You can see athletics is a huge passion of hers and she enjoys it every time she steps onto the track.
It inspires me how she made the most of her life considering her challenging upbringing. Growing up in the inner-city, she used her athletic skills to create a better life for herself. She has a huge heart for her community and invests in the lives of each and every one.
Pieter du Preez (South African - world's first ever quadriplegic athlete to complete ironman triathlon)
Pieter - or 'Supapiet' completed the 226km ironman triathlon in 13 hours and 24 minutes. Very impressive especially as just weeks earlier he had broken his arm.
Since a young age he wanted to become a professional tri-athlete and was well on his way before his accident, leaving him with the ability to only move his head, shoulders and arms. This hasn't stopped him to pursue his dream and he is ready to inspire the world even more with more great performances to come.
Hayes is set to be one of 1,300 athletes from 90 countries who compete at the 2015 IPC Athletics World Championships which take place in Doha, Qatar, between 22-31 October.