South African para-canoeists to benefit from latest technology
30.10.2014
Jono Wing and Stuart Hogg have both taken on new state-of-the-art boats in a bid to reach the Rio 2016 Paralympic Games.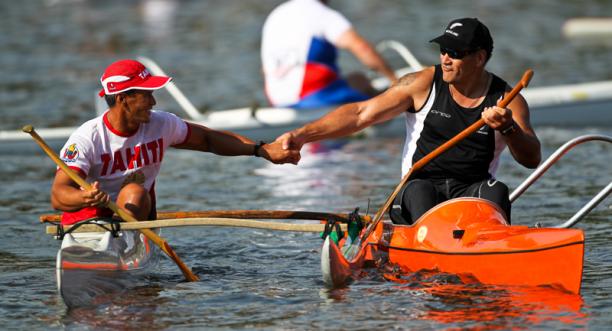 Para-canoe will make its Paralympic Games debut at the Rio 2016 Paralympic Games.
© • canoephotography.com / Balint Vekassy (ICF)
By Canoe South Africa
"It's something different but it's actually quite fun once you get into it!"
Two South African para-canoeists, Jono Wing and Stuart Hogg, are set to benefit from the latest boat technology in their bid to reach the Rio 2016 Paralympic Games in Brazil, where para-canoe makes its debut.
Wing was a member of the South African team that travelled to the recent ICF Canoe Sprint World Championships in Moscow, Russia, in August.
Wing is one the youngest athletes on the circuit and is now set to benefit from a new, state-of-the-art boat that could push him towards qualification for Rio.
"As a 17-year old, the boat that Jono was paddling at the World Champs was just too big for him," said Craig Mustard, wing's coach.
"With him paddling against older guys he needs to have a boat that is suited to him and this new one is great because he lacks the weight the other paddlers carry."
Hogg had already shown great promise as a paddler when he represented South Africa as an able-bodied athlete before an unfortunate car crash that left him with one side of his body weaker than the other.
Not willing to sit back, he got back into a boat with intentions of paddling for his country once more and realised his dream by competing at the Sprint World Championships, but fell short to more abled para-canoeists.
Now he is too set to benefit from a new boat, and a revised competition category that is more suited to his impairment means Hogg's dream of reaching the top is however back on track.
"The new boat is based on a traditional Tahitian outrigger," Hogg said.
"It's almost like para-canoe's equivalent of C1 paddling where you only paddle on the one side and then you've got an outrigger which helps with stability because a lot of the disabled athletes have problems with balance.
"It's something different but it's actually quite fun once you get into it!"
Hogg explains that it was an easy decision to change to the outrigger type of paddling due to his impairment and with this new boat, his ambition is clear.
"I don't have that upper body power for the sprints and as much as I have been training, I haven't been getting competitive times. Having one side of my body stronger than the other it just seemed logical to change over and use my stronger side to power the boat.
"Its early days, but I'm hoping that my times will get a bit more competitive internationally. We'll just have to see how it goes next year though."
He added: "The Paralympics is definitely the goal.
"I know it's going to be a challenge but I've got a lot of time on my hands so I'm keen to get a good base going now and then see how we go next year," a focused Hogg concluded.
For any further information, visit the Canoeing South Africa website.