Second Round of Alpine Skiing World Cup Wraps Up
03.02.2012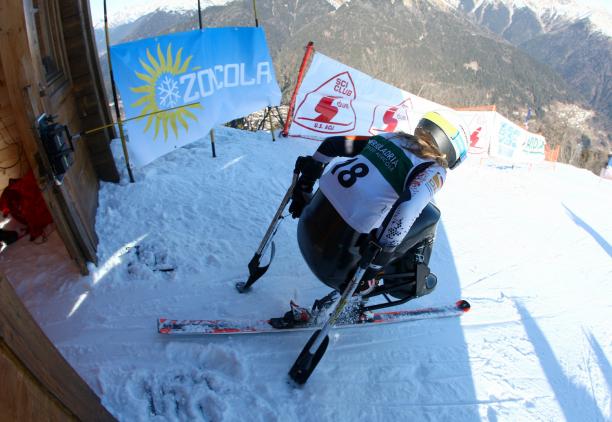 Anna Schaffelhuber. (GER)
© •
By IPC
Competition was fierce as Alpine Skiers fought for Giant Slalom World Cup points in the final race of the International Paralympic Committee (IPC) World Cup in La Molina, Spain on Thursday 2 February.
Russia's Alexandra Frantseva continues to head up the women's Giant Slalom Visually Impaired rankings after winning gold again on Thursday. Australia's Melissa Perrine and Slovakia's Henrieta Farkasova are ranked joint second, despite Frakasova being disqualified in La Molina for missing a gate on her second run. Great Britain's Kelly Gallagher won bronze – her first World Cup medal of the season.
"3rd in world cup GS today!! More importantly, it was not a dnf or a dsq! Two whole runs :)," she tweeted from @Kellygallagher.
France's Marie Bochet continues to lead the rankings in the women's Giant Slalom Standing, despite conceding gold to Germany's Andrea Rothfuss in La Molina. Rothfuss is ranked second and Italy's Melania Corradini is ranked third after taking bronze on Thursday.
In the women's Giant Slalom Sitting Germany's Anna Schaffelhuber is leading the ranking points, though she did not medal in La Molina. USA's Laurie Stephens and Canada's Kimberly Joines are ranked joint second after Joines took gold and Stephens bronze. USA's Alana Nichols, who is currently ranked fourth, took silver.
"SO CLOSE! I came back in the 2nd run and made up those 3 seconds but still lost by .6. Gotta put two together to win but ill take 2nd today!" Nichols tweeted from @alananichols21.
After a spectacular gold in the men's Giant Slalom Visually Impaired, Spain's Yon Santacana Maiztegui is ranked joint first in that event with Russia's Valery Redkozubov who took silver. Ranked third is Slovakia's Miroslav Haraus, though he did not finish the race in La Molina. Instead Austria's Christoph Prettner (ranked fourth) took bronze.
Although Australia's Mitch Gourley won gold in the men's Giant Slalom Standing, France's Vincent Gauthier-Manuel, who took silver, is still leading in the rankings. Gourley is 40 points behind in second place and Switzerland's Michael Bruegger, who won bronze, is ranked third.
The Japanese team dominated the men's Giant Slalom Sitting rankings with Taiki Morii ranked first and Takeshi Suzuki ranked third. Switzerland's Christoph Kunz is ranked second. The results on Thursday, however, showed a slightly different order though with Kunz taking gold, Morii silver and Suzuki missing out on a medal in fourth place. Germany's Georg Kreiter won bronze.
The next World Cup event will take place in Winter Park, USA, from 6-9 March 2012.
For full ranking lists and results please visit http://www.paralympic.org/AlpineSkiing.