Alpine Skiing World Cup Moves on to La Molina, Spain
30.01.2012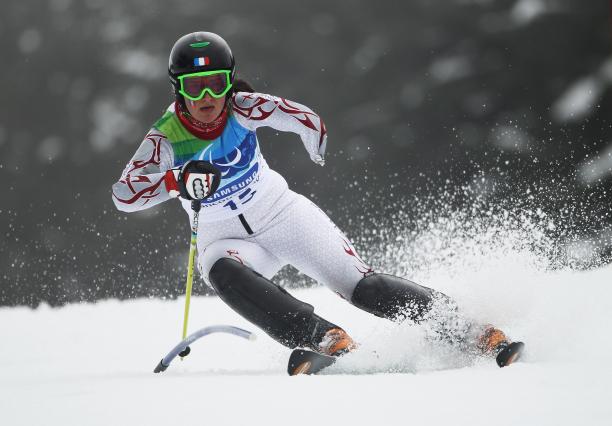 Marie Bochet (FRA) competing at the 2010 Vancouver Games.
© • Getty Images
By IPC
The next round of the International Paralympic Committee (IPC) Alpine Skiing World Cup continues in La Molina, Spain from 31 January – 2 February with 22 female and 52 male athletes from 12 countries competing in Giant Slalom and Slalom events.
After the World Cup opener in Arte Terme, Italy, Slovakia's Paralympic triple-gold-medalist Henrieta Farkasova is ranked first in the women's Giant Slalom and Slalom Visually Impaired, having picked up three golds. In Giant Slalom Visually Impaired, Russia's Alexandra Frantseva is ranked second and Australia's Melissa Perrine third, but both failed to make the rankings in Slalom after failing to finish the race in Arte Terme.
In the women's Giant Slalom and Slalom Standing, things seem to be equally as unshakable with France's Marie Bochet ranking first in both events. Germany's Paralympic silver medalist Andrea Rothfuss ranked second and Italy's Melania Corradini third.
Canada's Kimberly Joines was the only athlete to make it to the rankings for the women's Slalom sitting, after her other competitors did not finish the race in Arte Terme. Though Joines won gold in the first Giant Slalom race there, she did not finish the second, which pulled her ranking down to third position.
Germany's Anna Schaffelhuber is ranked first and USA's Laurie Stephens second in Slalom. However, with USA's Alana Nichols joining the competition in La Molina, these rankings could get a shake-up.
In the men's Visually impaired, Russia's Valery Redkozubov is holding onto his first place ranking in both the Slalom and Giant Slalom events, despite Spain's Yon Santacana Maiztegui beating him on the second day of Giant Slalom in Arte Terme. The Spaniard is ranked second in both events. Slovakia's Miroslav Haraus is ranked third in Giant Slalom, but did not make it to the Slalom rankings after he was disqualified on the first run of Friday's race in Arte Terme.
The rankings look very different for the men's Slalom and Giant Slalom Standing races. With a large group of competitors capable of making it to the podium, these rankings are likely to be shuffled up the most after La Molina.
In the men's Giant Slalom Standing France's Vincent Manuel-Gauthier is clinging on to first place in the rankings. Australia's Mitch Gourley is ranked second and Australia's Markus Salcher is currently in third place after he failed to finish the second Giant Slalom event. If things go well for the Austrian in La Molina though, he may be back on the top of the podium.
In the men's Slalom Standing, Russia's Alexandr Alyabyev is currently in pole position, followed by Switzerland's Michael Bruegger and Austria's Andreas Preiss. But this may all change in La Molina, after Manuel-Gauthier, Salcher and Gourley all did not finish the Slalom race in Arte Terme.
Austria's Philipp Bonadimann is in the lead in the men's Slalom Slalom Sitting, though this may change if Germany's Franz Hanfstingl has a better run in La Molina. France's Cyril More is currently ranked second and Austria's Dietmar Dorn third.
In the men's Giant Slalom Sitting Japan's Taiki Morii is ranked first, Switzerland's Christoph Kunz second and Japan's Takeshi Suzuki third. But in La Molina anything can happen, since Morri and Suzuki are not set to compete.
For more information, please visit www.ipc-alpineskiing.org