Rio 2016 hidden-camera video goes viral
19.09.2015
The video of athletes training in the gym has garnered more than 18 million views online and brought greater awareness of three Brazilian para-athletes.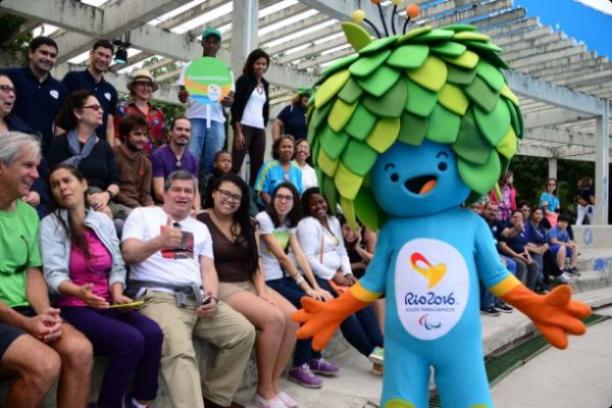 Rio 2016 Paralympic Games mascot Tom warmed up the crowd at the Paralympic Festival.
© • Rio 2016/Mathilde Molla
By Rio 2016
"This video has had more effect than all of my results in competition put together,"
Not many in Sao Paulo were aware that Brazilian judoka Lucia Teixeira, silver medallist at the London 2012 Paralympic Games, resides there. In the town of Uberlandia, hardly anyone congratulated powerlifter Luciano 'the Mountain' Bezerra Dantas for the bronze medal he won in August's Toronto 2015 Parapan American Games. In Vinicius Rodrigues's home town of Maringa, only those closest to him were following his efforts to qualify for the Rio 2016 Paralympic Games.
But, in the last two weeks, life has changed for these three athletes. Since a hidden-camera video featuring the trio working out at a local gym in Rio de Janeiro went viral in early September, they have been reconigsed more than before.
Produced to promote Paralympic Games ticket sales, the two-minute film shows the stunned reaction of gym regulars in Rio when the three para-athletes turn up and perform incredible feats, smashing preconceptions about athletes with impairments.
Up to 17 September, the video, below, had been viewed more than 18 million times online.
"This video has had more effect than all of my results in competition put together," said Teixeira, the visually impaired judoka who shocked her able-bodied opponents in the video – including the champion of Rio. "Old childhood friends have been getting in touch and tagging me on Facebook, loads of people I don't know have been writing on my page. The other day I was in the elevator and my neighbour, who is a teacher, asked if I could go and speak to kids in her school. Before this video, hardly anyone knew I was an athlete."
Dantas revealed that he had been disappointed with the public's reaction when he returned from the Parapan American Games.
"Brazil's Paralympic athletes won 116 more medals than our Olympic colleagues in Toronto, but when we returned home, almost nobody knew about our conquests," said the powerlifter with dwarfism, who amazed fellow gym goers in the video by bench pressing more than twice his own body weight. "Now people stop to greet me in the street, ask for autographs and photos. This video showed that if the Paralympic Games get a lot of television coverage, the public will get behind para-athletes."
"It [the video] gives us more motivation to get up in the morning, to train hard and perform to our best," Dantas said.
After losing part of his left leg in a motorbike accident 18 months ago, Rodrigues was visited in hospital by three-time Paralympic Games champion Terezinha Guilhermina, who shares her home town with Rodrigues.
With the new attention, Rodrigues hopes he too can use that to inspire others as well.
"She [Guilhermina] showed me a video of Heinrich Popow [Germany's 100m T42 champion in the at London 2012] running with a prosthetic blade, and she gave me the outfit she used at the Beijing 2008 Games. I cried all night and two days later I decided to stop complaining and change my life," said Rodrigues, who hopes to represent Brazil in the 100m and 200m in the same category as Popow at next year's Games.
Rodrigues contacted Popow on Facebook and asked for help, and the German recommended the Brazilian to Sao Paulo-based rehabilitation specialist Marian Weiss, who introduces recent amputees to sports and works with a number of Paralympians.
"Five months after the accident, I was learning how to run with a prosthetic leg," Rodrigues said. "This was only possible because of the inspiration of these athletes. Now, after the video, it's my turn to continue this cycle, to be someone who can inspire others. People from all over the world are contacting me on social networks."