Long sets world record on first day of Can Am Swimming Championships
21.03.2015
The US champion is the first para-swimmer to set a world record in the pool that will stage August's Parapan American Games.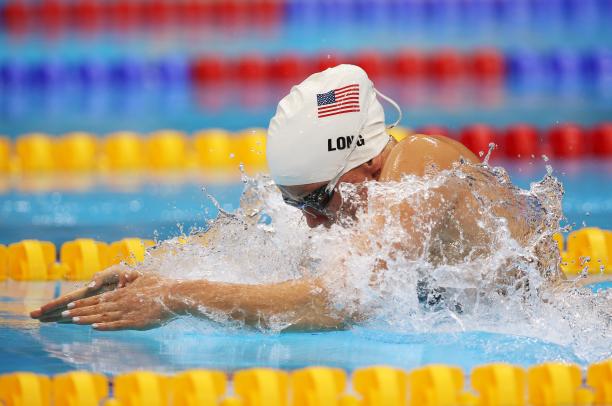 Jessica Long competes in the Women's 100m Breaststroke - SB7 Heat on London Games 2012
© • Getty Images
By By US Paralympics and Swimming Canada
The USA's 17-time Paralympic medallist Jessica Long opened the 2015 Speedo Can Am Para-Swimming Championships in Toronto, Canada, in style on Friday breaking the world record in the women's 400m freestyle S8.
Racing in the same pool that will stage August's Parapan American Games, Long (4:40.44) took more than a second off her previous mark set at the London 2012 Paralympic Games.
"I'm beyond thrilled about the world record in the 400 free. I haven't been able to beat my previous time for three years. It's reassuring knowing that all of my hard work is paying off. I can't stop smiling!" said Long who also swam in the 100m butterfly preliminary race (1:11.15).
Around 200 swimmers from 11 countries are in Toronto for the three-day meet at the CIBC Pan Am / Parapan Am Aquatics Centre and Field House a. The event is acting as a selection event for both Team USA and Team Canada ahead of July's World Championships in Glasgow, Great Britain, and August's Parpan American Games in Toronto.
Team USA swimmers set multiple national and regional records at Friday evening's finals. Eighteen-year-old Kayla Wheeler (5:40.92) set both a US and Americas record in the women's 200m freestyle S2.
Evan Austin also achieved both honours in the men's 200m freestyle S8 with a time of 1:06.28.
With Long, Wheeler and Austin's marks, six US records were set on the opening day of competition: Jesse Greve in the men's 200m freestyle S14, Connor Gioffreda in the men's 400m freestyle S6 and Robert Griswold in the men's 400m freestyle S8. Griswold took on the record twice, winning in prelims and racing 0.8 seconds faster in finals to secure the title.
Canada's Aurelie Rivard (4:43.52) received a shock when she lost her swim cap during the morning preliminaries but got her head back in the game to win the final of the women's 400m freestyle S10.
Her time was about six seconds off her Canadian record but she is confident she can make improvements as she prepares for a busy summer.
"I can go way faster than my personal best," said Rivard. "I am going to work during the few months we have to see what I can do.
"I need to have more confidence in myself and really go for it and not be scared of anything."
Rivard received an unwanted surprise during the morning swim when her cap popped off, causing hair to cover her eyes for part of the race. She solved the problem by wearing two caps in the evening final.
"I was little nervous," she said. "I was afraid to lose it again. It worked."
Prior to the evening session Rivard and Nathan Stein were recognised for being named the Team Aquatic Supplies Female and Male Para-swimmer of the Year.
Canada's Alec Elliot had a good night winning the S10 400m freestyle S10 (4:20.12) and the S10 100m butterfly S10 (53.33).
"I just wanted to do my best, have some fun and see where it got me," said Elliot. "I ended up winning two races. It was good."
Elliot and Stein were involved in one of the night's most exciting races.
Stein led after 50m of the 100m butterfly but Elliot made a final push to catch him at the wall.
"We had expectations," said Elliot. "The plan was to go out fast, try and stick with him and catch him at the end."
Stein was happy with his time but frustrated with the second place.
"I'm grinding my teeth a little bit," he said. "He is going to win that event in a couple of years.
"It's pretty frustrating considering this is a practice for upcoming meets and internationals. That shouldn't happen but it's the name of the game. I seized up too early and he got me."
In other races, Canada's Tammy Cunningham (1:13.62) won the S4 50m backstroke S4.
There were also personal bests for Katarina Roxon (5:11.05) in the 400m freestyle S9 - shaving over four seconds off her previous best – and Tess Routliffe (5:58.48) in the 400m freestyle S7.
"It makes me believe I can do better each time," said Routliffe. "It helps give me a little more confidence."
The Can Ams end Sunday (22 March) evening. Preliminary heats start at 09:30 ET each day, with finals set for 6 p.m. each night.
Tickets for August's Parapan American Games which take place between 7-15 August go on-sale on Monday 23 March.