Canadian legend Huot targets personal bests in 2015
18.03.2015
The 31-year-old is preparing for a busy year with the CanAms, World Championships and Parapan American Games all on his calendar.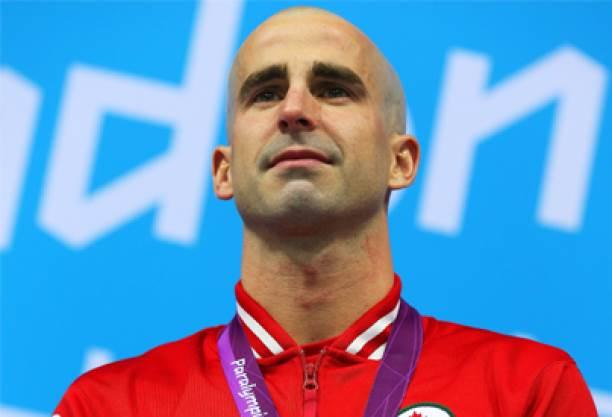 Canada's Benoit Huot won the gold medal during the men's 200m individual medley - SM10 final at the London 2012 Paralympic Games
© • Getty Images
By Ryan Hills | for the IPC
"The objective this year is to go for my personal best times. I am in good form, I have been getting some decent speed in my backstroke."
Canadian Paralympic swimming legend Benoit Huot is remaining fully focused on a busy 2015, after last week he received a fresh set of medals after being hit by burglary last July.
Huot, who will compete at this week's CanAms, July's World Championships and August's Parapan American Games, was presented with five fresh medals after having them stolen.
Speaking to www.paralympic.org, Huot opened up on how he can move on with his life following the presentation this past week.
"It was a very special moment for me," he explained. "A huge thanks has to go to the IPC for finding the replacement medals, and though it was a great feeling, it was funny to receive the medal twice.
"I remember the robbery and those feelings in the weeks after where I thought I would never see those medals again, but being awarded them again brought back a lot of emotions. I remembered that specific moment of when I won the medals when getting them, and it brought back many emotions."
An icon of the sport, the S10 athlete is something of a veteran of the pool, having been one of the most successful athletes since 2000, a year where he picked up six Paralympic medals, three of them gold in Sydney, Australia. Two years prior to that, he shone at the World Championships with some incredible early success.
Ahead of a very busy year, the now 31-year-old Huot took time out of his hectic schedule to give the lowdown on his preparations.
"Things are going well for me," said the four-time Paralympian. "Back in October I switched training programmes, and am now with a new group and a new coach. The CanAms this month will be a good indication of how that switch has gone, and I am hoping I can maybe go close to my best times.
"The objective this year is to go for my personal best times. I am in good form, I have been getting some decent speed in my backstroke."
In the coming weeks, Huot will head off to Glasgow, Great Britain, the venue for July's World Championship. The visit will see him swim in the pool for the first time, and will be his first opportunity to swim in the city that staged the 2014 Commonwealth Games. But that does not mean this is his first visit. "I have been once before, when I was fortunate to be nominated for the "Athlete with a Disability of the Year Award" and luckily I won!"
If Huot is to see more glory ahead in Scotland's second city, he will of course have to see off some tough competition, the toughest of which being US swimmer Ian Silverman. Speaking of the competition between them both, 'The Shark' insists it is good to have rivalry.
"Competition is the fun part. Over the years I have become better as an athlete when in a position of adversity, and being able to have someone chasing you in our sport is something I really like.
"Back when Andre Estevez came on the scene and broke all the world records, for those couple of months I wasn't the happiest guy. But when I step back and think about it, it made our category more competitive and we all became better.
"With Ian Silverman, he is young, dynamic talented. He has a lot of great years ahead of him, and I like that he pushes me to become better. I know I have that many more years in me now, but for the next few years I'll do my best to be in the best shape and hopefully stay ahead."
With August's Para Pan American Games to be held in Toronto, Huot has revealed that the event in his home city was a big reason behind his desire to continue in the sport.
"It is very rare that you get to race on home soil, and this is one of the biggest reasons I am still in the water. My aims after that are to do Rio 2016, but Toronto has made it much easier for me to stay motivated."
The Parapan American Games will take place between 7-15 August and will feature around 1,600 athletes from 28 countries competing in 15 sports. Tickets for the event go on-sale from 23 March.