Germany and Brazil see top of podium in Duisburg
02.09.2013
Tom Kierey won a title for the host nation and Fernando Fernandes won his third world title at the ICF Canoe Sprint World Championships.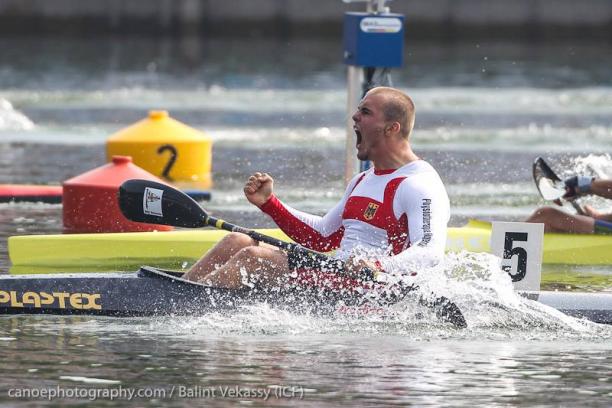 Germany's Tom Kierey celebrates winning the K1 men's 200m LTA world title.
© • ICF
By ICF
"In Brazil when I started, we had only five athletes. Now we have over 70."
Host nation Germany finally claimed their first gold of the event as Tom Kierey overpowered a hugely experienced lineup in the K1 men's 200m LTA at the 2013 ICF Canoe Sprint World Championships in Duisburg on Friday (30 August).
The 18-year-old was too strong for the rest of the field, including the three-time world champion Iulian Serban from Romania.
Speaking after the race, Kierey said: "The challenge was to beat the Romanian. I beat the challenge so I'm happy."
Ukraine's Yuriy Kikhayev won the bronze and added further to their impressive medal tally of four total medals.
Brazil's Fenando Fernandes claimed the world title for the fourth time in a row in the K1 men's 200m A, but this time his margin of victory was significantly reduced.
Pushed all the way, the Brazilian superstar managed to close out the race with a time of 51.330.
Silver went to Great Britain's Ian Marsden; he stopped the clock a fraction later at 51.920.
"Here it's more difficult," said Fernandes. "Guys are more strong and prepared. I need to be very focused."
"In Brazil when I started, we had only five athletes. Now we have over 70."
In the same race, Germany's Christian Mathes took the bronze; the 19-year-old looked impressive and will certainly be one to watch in the future.
In the V1 women's 200m LTA, Great Britain secured their fifth gold of the Championships. Winning in a time of 59.967, Andrea Green showed real determination to outsprint a highly experienced lineup.
Talking after her Gold medal winning performance, Green said, "I had a little bit of a slow start then got into my stride. I just thought power stroke, power stroke and gradually people disappeared from my periphery."
One of those to disappear was the K1 women's 200m LTA champion, Christine Gauthier.
However, the Canadian claimed slver with a strong finish that pushed the USA's Anya Pierce into third.
Medal winners
K1 men's 200m A
1. Fernando Fernandes (Brazil)
2. Ian Marsden (Great Britain)
3. Christian Mathes (Germany)
V1 women's 200m LTA
1. Andrea Green (Great Britain)
2. Christine Gauthier (Canada)
3. Anya Green (Great Britain)
K1 men's 200m LTA
1. Tom Kierey (Germany)
2. Iulian Serban (Romania)
3. Yuriy Kikhayev (Ukraine)