Frankfurt 2013: Five things we learned
18.07.2013
Take a look back at five of the biggest things that the 2013 IWBF Wheelchair Basketball European Championships showed us.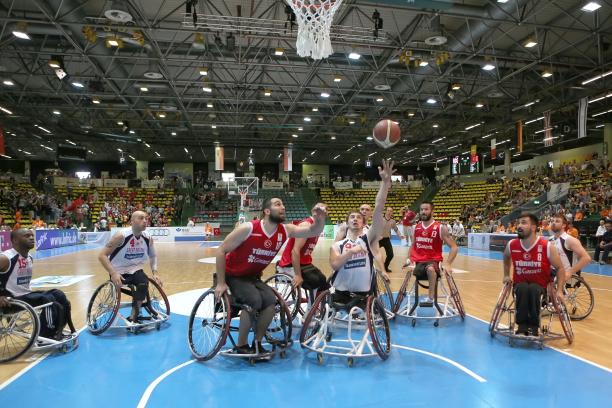 British wheelchair basketball team plays against Turkey in the final of the European Championships 2013
© • British Wheelchair Basketball
By Nate Williams | for the IPC
The Turkish men's team are mostly made up of players from the EuroCup championship-winning club Galatasaray, so it was no surprise that they made the final.
Now that we are more than a week removed from the Netherlands' women and Great Britain's men winning their respective European wheelchair basketball titles, there has been time to reflect on what the results revealed to the wheelchair basketball world.
1. Germany's women's team are, in fact, beatable:
Germany have dominated the women's IWBF Wheelchair Basketball European Championships since 1999, claiming victory over the Netherlands on six successive occasions but this year was a different matter.
In front of an expectant home crowd, they cruised through to the final with eight uncontested wins.
However, they trailed the Netherlands by five with one minute remaining in the final and even though they fought back to within one point, they missed two free throws to give the Netherlands their fifth European title.
2. British men excel under pressure:
Great Britain's men's team successfully defended their European title with a hard-fought 59-57 win over a tough Turkish side.
Going into the tournament, they lost twice to hosts Germany in a warm-up tournament, but they showed their credentials as world-beaters in front of the German crowd with a 74-51 opening victory against them. They made their free throws count in the semi-final against Spain with a close 72-69 win to meet Turkey in the final.
Despite Turkey leveling the game in the closing stages with an eight point burst, Great Britain kept their composure and two baskets from Abdi Jama and Terry Bywater sealed their second successive title.
3. Italy's women's team struggle to compete with the elite:
Italy were awarded the "golden raspberry" in Frankfurt after going through the entire tournament without a win.
In the group stages, the Italians only managed to score 70 points and collapsed under offensive pressure by giving away 206 points across three games. They were missing three players through illness but they were simply no match for the top sides.
In the quarter-finals, they met the hosts and favourites Germany who overwhelmed them with a 93-26 decision.
4. Turkish men are a strong force to watch out for:
The Turkish men's team are mostly made up of players from the EuroCup championship-winning club Galatasaray, so it was no surprise that they made the final.
After their 2009 silver medal European success and qualifying for their first ever Paralympics in London, they are getting stronger every year. They proved that in Frankfurt, as they sailed to the top of their group unbeaten with a total point differential of 97, and then they beat Sweden by 35 points to reach their second European final.
Even though they fought back from behind and managed to become within touching distance of first prize, two lapses in defence and missed free throws meant they had to settle for silver again.
5. Sweden are good at bouncing back from defeat:
Sweden's men's team managed to break through to the quarter-finals of the competition by grabbing fourth place in their group with hard-earned wins over France and Poland.
The 2007 European champions suffered close loses to eventual bronze medallists Spain and Israel.
However, they recovered with a strong performance against the Netherlands to ensure they would play for a medal.
Turkey overwhelmed them in a 35-point semi-final win, which, meant they played Spain for the bronze. Sweden lost by nine points in a spirited display but coach Malik Abes is just happy that they are now qualified for the World Championships next year in South Korea.
He said: "Korea here we are. We are a team now that is qualified for the World Championships. We are just happy because we worked a lot for this."