Great Britain beat Turkey for gold in thriller
08.07.2013
The British men's wheelchair basketball team won the European title by just two points against Turkey.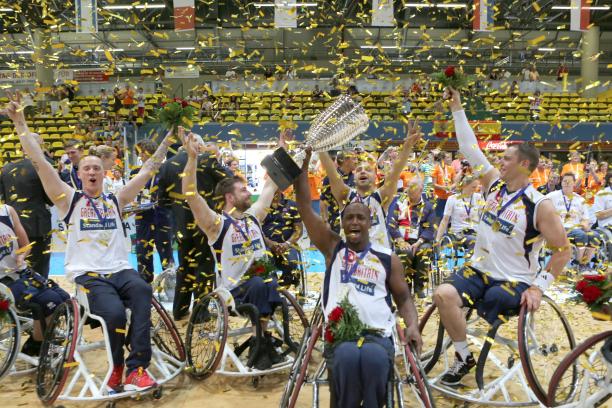 Abdi Jama and the British wheelchair basketball team celebrate after winning the 2013 IWBF European Wheelchair Basketball Championships in Frankfurt, Germany.
© • British Wheelchair Basketball
By Nate Williams | for the IPC
"We are a great team, we played really well and Turkey gave us a big battle. They played brilliantly."
A tense gold-medal match at the IWBF Wheelchair Basketball European Championships on Sunday (7 July) went right down to wire, as Great Britain retained their European title with a narrow 59-57 victory over Turkey in Frankfurt, Germany.
The British were up against a tough and physical Turkish team, who were looking to better their highest finish of a silver medal in 2009.
Turkey almost upset the defending champions as they took the lead in the fourth quarter, but a combined six-point scoring effort from British captain Abdi Jama and Terry Bywater sealed the victory.
"It's fantastic to win gold," Great Britain head coach Haj Bhania told British Wheelchair Basketball.
"We are a great team, we played really well and Turkey gave us a big battle. They played brilliantly. I thought it was a great final with the two best teams of the tournament here. We had to do something special to win and credit to the team they were just unbelievable."
Top scorer Ian Sagar added: "It's fantastic. We came out here to win and we've done it. We knew the Turkish were going to be tough and what a final to play in. This is why I play basketball, not for the celebration after but to play in those games.
"I didn't even know I was top scorer, you get caught up in the moment and you just play the game as it comes, but it's a nice little bonus."
The opening minutes of the game saw both teams struggle to find their touch, as nerves were an obvious factor, with the score tied at four apiece after four minutes.
Turkey composed themselves first, but then Sagar's two baskets just before the end of the first quarter slimmed Turkey's lead to just eight points.
Bhania changed his game plan in the second quarter bringing on the pressuring line up of Harry Brown, Ade Orogbemi, Ian Sagar, Gaz Choudhry and Simon Brown. This lifted the intensity in defence and the pressure allowed Great Britain to claw back the deficit to level the score as they went into the break tied up at 26.
All through the third quarter the teams traded baskets with no one taking more than a two-point lead. Jama made the final basket of the quarter to edge Great Britain ahead, 47-45, with 10 minutes remaining.
Turkey regained the lead at the start of the fourth quarter but a 6-0 run from Great Briatin gave them a five-point cushion with seven minutes remaining.
Turkey weren't going to give up without a fight though, as they hit back with an 8-0 run of their own as the defending champions failed to score for five and a half minutes.
Nonetheless, it was the reintroduction of the experienced Bywater and Jama that made the difference in the end. The duo scored the last six points, with Turkey missing five of six free-throw attempts during the closing seconds, allowing the British to run out as back-to-back European champions.
Spain 65, Sweden 56 (men's bronze-medal game)
Despite a close contest, Spain were able to hold off Sweden in the final quarter, as as Alejandro Zarzuela and his brother Pablo each scored 12 points for the winning team.
Joakim Lindblom and Joakim Linden led Sweden with 14 points apiece.
Italy 53, Germany 41 (men's fifth-place game)
Italy came out with a fifth-place finish in Frankfurt after the host nation's men's team failed to dictate the court and find the basket.
Italy's Matteo Cavagnini scored 18 points in the contest, as did Germany's Dirk Passiwan.
Netherlands 76, Poland 65 (men's seventh-place game)
After what looked like an evenly matched start to the game, the Dutch sped by the Polish to build up a lead and run away with it. Mustafa Korkmaz led the Netherlands with 21 points, while Krzysztof Bandura scored 27 for Poland.
France 66, Switzerland 56 (men's ninth-place game)
France was led by Nicolas Jouanserre's 23 points, and it was the final game for Frenchman Nicolas Hausammann before his retirement. Maurice Amacher led Switzerland with 26 points.
Belgium 65, Israel 46 (men's 11th-place game)
Belgium were able to scrounge out a win to avoid a last-place finish at the Championships, as Samir Bade and Tanguy Six each scored 14 points for the winning team. Roei Rozenberg led Israel with 14 points as well.