Boki crowned most-decorated Paralympian
17.09.2016
Three more world records tumble and Brazil win three medals.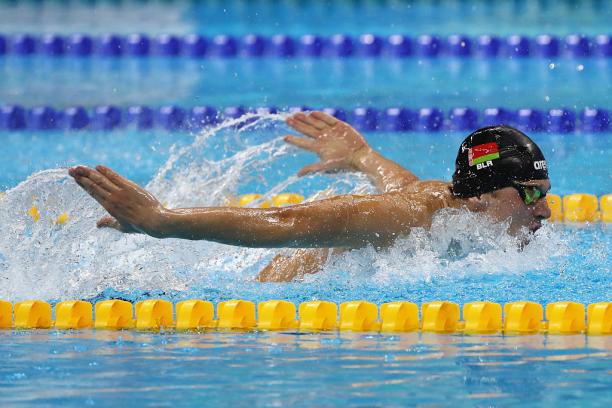 Boki heads the list of title contenders on day one of the World Championships
© • Getty
By IPC
"I wanted to go out there and smash times and get world records and I have done that."
Belarus' Ihar Boki dominated in the men's 100 backstroke S13 on the final night of competition at the Rio 2016 Paralympic Games on Saturday (17 September), winning his sixth gold in a new world record time of 56.68.
With the win, 22-year-old Boki becomes the most decorated Paralympian from Rio 2016 with seven medals overall, having also collected a bronze in the men's 100m breaststroke SB13.
"There is a feeling of lightness because I did so much work to achieve this," Boki said. "I'm happy that I was able to have decent results in this competition, and that I was able to stay strong. All of these 10 days were very difficult and I had to swim a race almost every day.
"I wanted to go out and just show the results that I am capable of right now. I came out here and I showed that and apparently that was enough to get the gold medals."
Boki now has 11 Paralympic titles from two Games, improving on his London 2012 performance where he took home five golds and a silver.
Ukraine's Iaroslav Denysenko (59.02) was second in the race as he had been at the 2015 IPC Swimming World Championships. Canada's Nicolas Turbide claimed bronze in 59.55 to lower the Americas record.
Brazil's Daniel Dias won his fourth gold medal of Rio 2016 as the man who inspired him to take up swimming – compatriot Clodoaldo Silva - retired from international competition.
Dias (1:10.11) controlled the men's 100m freestyle S5 race from the start, touching in first ahead of the USA's Roy Perkins (1:14.55) and Great Britain's Andrew Mullen (1:15.93) in second and third respectively.
Six-time Paralympic champion Silva, a former champion in the event from Athens 2004, and Dias had a long and emotional embrace at the side of the pool after the race finished. Following the last race, Silva and Spain's eight-time Paralympic gold medallist Sebastian Rodriguez completed a lap around the pool in honour of the their incredible achievements as they bowed out.
The biggest cheer of the night came for Brazil's bronze in the men's 4x100m medley relay 34 points.
The team of Dias, Ruan de Souza, Andre Brasil and Phelipe Rodrigues worked their way up the field to finish in a new Americas record time of 4:17.51, and the crowd went wild.
It took a new Paralympic record for Cong Zhou, Furong Lin, Maodong Song and Yinan Wang (4:06.44) to win gold ahead of Ukraine (Iurii Bozhynskyi, Denys Dubrov, Maksym Krypak and Ievgenii Bogodaiko) who finished in 4:07.89.
China finished first in the swimming medals table with 37 gold, 30 silver and 25 bronze, a total of 92 medals.
Three world records on Saturday night bought the overall count to more than 60 over the 10 days of competition. Great Britain made their contribution once again courtesy of Oliver Hynd.
Defending champion Hynd (2:20.01) lowered the world record of Australia's Peter Leek from Beijing 2008 in the men's 200m individual medley SM8. Hynd came back from a fourth placed butterfly lap to dominate in the other strokes, winning his second gold of Rio 2016. China's Maodong Song (2:02.79) relinquished his early lead to finish second but claimed the Asian record. His compatriot Haijiao Xu (2:21.19) was third.
"I wanted to go out there and smash times and get world records and I have done that," Hynd said. "I PB'd [got a personal best time] in every race, I don't think I have done that before in my life. I am delighted. All the same I did get two fourth places, but to go home with two golds and two world records, I can't be disappointed with that."
Hynd's teammate Bethany Firth leaves Rio with a trio of golds after victory in the women's 200m individual medley SM14. Firth's time of 2:19.55 was also her third Paralympic record.
"It was always in the back of my mind, I am not going to lie," Firth said of her triple. "I have been going away on training camps, doing things I am not used to, I am more of a stay at home and do my thing kind of person. But it's all been worthwhile."
Her compatriot Jessica-Jane Applegate (2:27.58) stood beside her on the podium in second. The Netherlands' Marlou van der Kulk (2:29.49) was third.
Hannah Russell (27.53) reached the top of the podium for the second time for Great Britain in the women's 50m freestyle S12. The world champion bettered Germany's Naomi Schnittger (28.38) who secured silver. Spain's Maria Delgado Nadal (29.03) was third.
"In London I won silver and two bronze, here two golds and a bronze," Russell said. "So I've stepped it up, so I'm happy."
A haul of 16 gold, 16 silver and 15 bronze medals means that Great Britain finished third in the swimming medals table.
With three golds from Saturday evening, and several podium finishes from other races, Ukraine finished second in the table with 25 gold, 24 silver and 25 bronze.
World champion Yelyzaveta Mereshko (1:11.40) won her fourth gold in world record time in the women's 100m freestyle S6. The 24-year-old led from the front to claim victory ahead of teammate Viktoriia Savtsova (1:13.47). Great Britain's Ellie Robinson (1:14.43) was third.
Anna Stetsenko (1:08.30) added to her country's medal and record haul with her third gold in the women's 100m backstroke S13. Stetsenko came back against Great Britain's Abby Kane (1:09.30) who finished second. Australia's Anna Dedekind (1:12.25) was third with a new Oceanian record.
World and Paralympic title holder Maksym Veraksa (23.67) maintained his position as the man to beat in the men's 50m freestyle S12, even if he did not improve on the world record time for which he is known as the 'world's fastest Paralympian'.
"I have had this ambition for a long time," Veraksa said of the record. "I want to do it, of course, and I got close in 2013 – I got 23.36 – but I could not beat it. It's a strong record for me, but I want to go even faster so that I get to feel as if I'm flying over water."
Azerbaijan's Dzmitry Salei (24.29) was second and Veraksa's teammate Illia Yaremenko (24.41) third.
The USA's Jessica Long (2:40.23) finally got her hands on gold in the women's 200m individual medley SM8 to retain her title. The 24-year-old finished ahead of Great Britain's Stephanie Millward (2:43.03) and Australia's Lakeisha Patterson (2:45.22), who set an Oceanian record.
"[It's] instant relief," Long said. "It's been the longest 10 days. It's the last race and I finished with a gold. "There's been no pressure, it's just I wanted to leave with a gold."
Long, now a 13-time champion, cemented her place as the USA's second most decorated Paralympian of all time having also won three silvers and two bronze medals in Rio.
Flying Dutchman Marc Evers (2:10.29) was another Paralympic champion who had to wait until the last day to taste gold. But taste gold he did in the men's 200m individual medley SM14 with a new Paralympic record.
Great Britain's Thomas Hamer (2:12.88) claimed silver and Japan's Keichi Nakajima (2:15.46) bronze.
Cuba's Lorenzo Perez Escalona (1:04.70) set a new Paralympic record on his way to gold in the men's 100m freestyle S6. He resisted a charge from Colombia's world champion silver medallist Nelson Crispin (1:05.37) to take Cuba's first Paralympic swimming gold in history. Ukraine's Oleksandr Komarov (1:06.21) was also strong to take bronze.
"This medal represents the pride of all Cubans that I am representing here with dignity," Perez Escalona said. "I came here with all my effort, with all my being to be able to represent well this incredible family, the incredible revolution, which has forged me into the way that I am as a person and as an athlete."
China's Li Zhang (1:18.85) broke the Asian record on her way to her fourth gold of the meet in the women's 100m freestyle S5. Spain's Teresa Perales (1:20.47), the defending champion, took silver. But the Brazilian crowd only had eyes for lane two as Joana Maria Silva (1:23.21) held on to her third place from the turn to set a new Americas record, much to the fans' delight.
Australia's Rachel Watson (40.13) took gold in the women's 50m freestyle S4. Watson, on her Paralympic debut, led Italy's Arjola Trimi (40.51) and Mexico's world champion Nely Miranda (40.53) into a close second and third respectively. Trimi's time was a new European record.
South Korea's Giseong Jo (39.30) sealed his second gold of Rio 2016 in the men's 50m freestyle S4. France's David Smetanine (40.58) got silver and Ukraine's Andrii Derevenskyi (40.94) bronze.