PARA SWIMMING

Ihar Boki
28 June 1994 Belarus
LATEST TRIUMPHS:

Rio 2016 Paralympic Games - Gold: 50m, 100m and 400m freestyle, 100m backstroke, 100m butterfly and 200m individual medley; Bronze: 100m breaststroke

2015 IPC Swimming World Championships - Gold: 50m, 100m and 400m freestyle, 100m backstroke, 100m butterfly and 200m individual medley; Silver: 100m breaststroke

2014 IPC Swimming European Championships - Gold: 50m and 100m freestyle

2013 IPC Swimming World Championships - Gold:100m butterfly, 100m backstroke, 200m individual medley, 100m & 400m freestyle; Silver: 50m freestyle

London 2012 Paralympic Games - Gold: 100m butterfly, 100m backstroke, 200m individual medley, 100m & 400m freestyle; Silver: 50m freestyle
Find out about the full career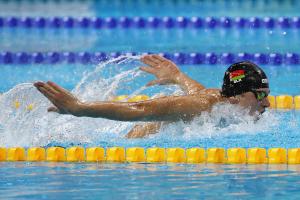 Belarusian Ihar Boki dominated his S13 class at London 2012. In his first Paralympics he took home five gold and a silver medal and broke four world records in men's S13 events.
His success in London was no surprise. He had shown his form and positioned himself as the man to beat after winning four world titles at the 2010 IPC Swimming World Championships in Eindhoven, the Netherlands.
Already in terms of gold medals he is Belarus' most successful Paralympian and that continued at the 2013 IPC Swimming World Championships where he equalled his gold medal performance from London 2012. He also set two world records.
The next stop on his road to Rio 2016 was the 2014 IPC Swimming European Championships, where he focused his medal hopes and this time left with two golds.
By the time of the 2015 World Championships, Boki was back to spreading himself across multiple events, sealing six gold medals and four world records in the 50m and 100m freestyle, 100m backstroke and 100m butterfly.
His only second place finish came in the 100m breaststroke, where he lost out on gold to teammate Uladzimir Izotau.
The 2016 IPC Swimming European Open Championships yielded six more titles, just a few months before Boki went onto win a further six Paralympic golds at Rio 2016. His haul included two new world records in the 100m butterfly and 100m backstroke and meant he left as the most decorated Paralympian across all sports.