Boccia and goalball stars at National Paralympic Day
14.08.2014
Stars from Great Britain's London 2012 boccia and goalball teams are set to compete once more during National Paralympic Day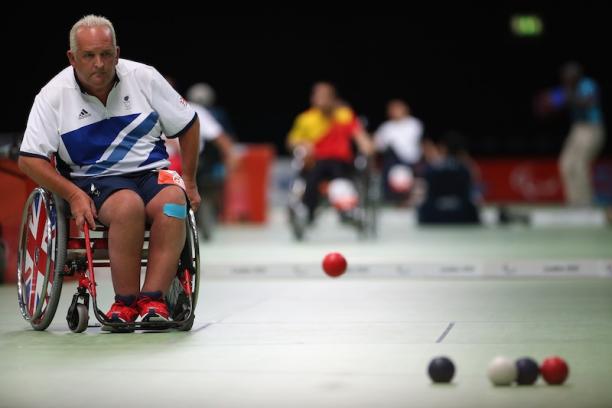 Nigel Murray competes in boccia at the London 2012 Paralympic Games.
© • Getty Images
By IPC
A number of Great Britain's boccia and goalball stars from London 2012 are set to compete as part of National Paralympic Day on Saturday, 30 August, at the Queen Elizabeth Olympic Park, London, Great Britain.
In the boccia competition, a fierce rivalry will come to the fore as Great Britain take on Greece.
The hosts will be represented in the BC3 Pairs by current European bronze medallists Jacob Thomas, Scott McCowan and Patrick Wilson.
London 2012 gold medallists Greece, who currently sit at the top of the world rankings, have named star player and European silver medallist Grigorios Polychronidis among their athletes.
With September's BISFed Boccia World Championships on the horizon, both sides will be looking to be in top form, while the British players are keen to maintain their unbeaten record at London's Copper Box Arena.
Thomas said: "It's really exciting to showcase boccia at National Paralympic Day and I'm really looking forward to the event. It should be a tough match, but hopefully the home crowd will get behind us and we'll get the result we've been training for."
Following the boccia, goalball will take centre stage as Great Britain's women take on Belgium.
Anna Tipton and Georgie Bullen will return to the scene of their success at London 2012, while newcomers Laura Perry, Shamaila Kauser, Sarah Leiter and Andrea Logan are also named on the team sheet.
Tipton said: "I have fantastic memories of competing in the Copper Box Arena at London 2012 and two years on I can't wait to go back and compete there as part of the celebrations for National Paralympic Day."
For more information about how to buy tickets and for details about regional events, visit the National Paralympic Day website.