Great Britain to face London 2012 bronze medallists at National Paralympic Day
08.08.2014
British wheelchair basketball team announced to face the Netherlands on 30 August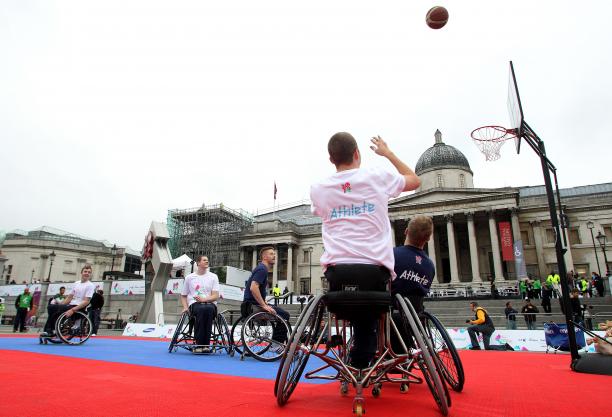 General view of Wheelchair Basketball during the 2011 International Paralympic Day at Trafalgar Square.
© • Getty Images
By IPC
Two years to the day since they lost to the Netherlands in their opening match at London 2012, the Great Britain's women's Wheelchair Basketball team will line-up on Saturday 30 August at Queen Elizabeth Olympic Park in London to take revenge on the Paralympic bronze medallists.
Spectators at National Paralympic Day 2014 featuring the Mayor of London's Liberty Festival will be treated to a world class wheelchair basketball match, which will draw the event to a spectacular close. The British team face incredibly tough competition in their Dutch opponents, who are in top form having recently added a bronze medal at the 2014 World Championships to their podium place from London 2012.
But the Great Britain team will have the noise of the home crowd in London on their side as they will try to break the Dutch team's run of good form when they take to the court at the Copper Box Arena.
The Great Britain team announced on Wednesday (6 August) represents a blend of experience and youth, with team stalwarts and London 2012 co-captains Clare Griffiths and Louise Sugden lining up alongside the emerging talent which helped the GB women to secure their highest ever ranking of fifth place at the recent World Championships.
Also represented on the team sheet are Paralympians Maddie Thompson and Amy Conroy, who both made their Games debut at London 2012. Thompson will be looking to help her team maintain their unbeaten record at National Paralympic Day after she helped the GB team to secure a convincing victory over Spain at the inaugural event last year.
Aged 15 years old, Joy Haizelden and Charlotte Moore are among the youngest athletes to be selected for the showdown on National Paralympic Day but they bring experience from the World Championships, with both players also having played their part in the GB victory at National Paralympic Day 2013.
Clare Griffiths (previously Strange), co-captain of the London 2012 team and the most experienced athlete on the team with experience of four Paralympic Games under her belt, is looking forward to their battle with the Netherlands.
She said: "It is a great venue, we competed there last year and, as in London 2012, the atmosphere was fantastic. Paralympic sport got a new following in London and events like this continue to promote it and give the fans new and old the chance to see and support us."
Sophie Carrigill, a graduate of the BPA's Paralympic Inspiration Programme who went on to captain the team at the 2014 World Championships, was also excited to be competing for GB on National Paralympic Day.
She said: "I think it's a great event to showcase the legacy that London has left. We have such a young team at the minute who were massively inspired by the Paralympics so it's good now that they can play in one of the arenas that was used."
Charlie Bethel, CEO of British Wheelchair Basketball, added: "Two years on from London 2012, it is incredibly exciting for our sport to be showcased as part of National Paralympic Day and I can't wait to see the GB Women go out there and compete in front of a home crowd again. It is a fantastic opportunity to demonstrate the continuing development of the women's team who have recently secured their highest ever ranking at the 2014 World Championships, beating London's silver medallists Australia.
He added: "This is an opportunity for people to come out and enjoy world class competition. The Netherlands is a strong team but the GB women will put up a good fight. I have no doubt that it will be a great match for spectators celebrating National Paralympic Day on August 30. I'd urge people to get tickets to cheer on GB so that we can make some noise and show the Netherlands that we're going out there to win."
On National Paralympic Day, fans of Paralympic sport can buy tickets to enjoy elite Paralympic sport at the Queen Elizabeth Olympic Park in London, with wheelchair basketball featuring alongside boccia, goalball, and swimming.
In addition to the elite sport on offer, National Paralympic Day will once again join up with the Mayor of London's Liberty Festival to showcase the finest talent in disability sport and arts. A whole a range of free activities are on offer for the whole family to enjoy on the Queen Elizabeth Olympic Park.
National Paralympic Day is celebrated through the generous support of the charity, Spirit of 2012 (Spirit).
Spirit was established by the Big Lottery Fund last year, with an endowment of £46m from the sale of the Olympic and Paralympic village. It is working to ensure the spirit that radiated from the London 2012 Games can be felt by everyone, everywhere. It is investing in happiness; supporting those providing opportunities in sports, the arts and volunteering.
Birmingham, Liverpool and Glasgow are also gearing up to host their own celebrations for National Paralympic Day.
The GB women's Wheelchair Basketball for National Paralympic Day:
- Jordanna Bartlett
- Sophie Carrigill
- Amy Conroy
- Leah Evans
- Clare Griffiths (nee Strange)
- Joy Haizelden
- Charlotte Moore
- Louise Sugden
- Fi Tillman
- Maddie Thompson