Yijun Chen refuses to be complacent ahead of Incheon
07.10.2014
The wheelchair fencing Paralympic champion knows that he will face tough competition at the 2014 Asian Para Games in the battle for gold.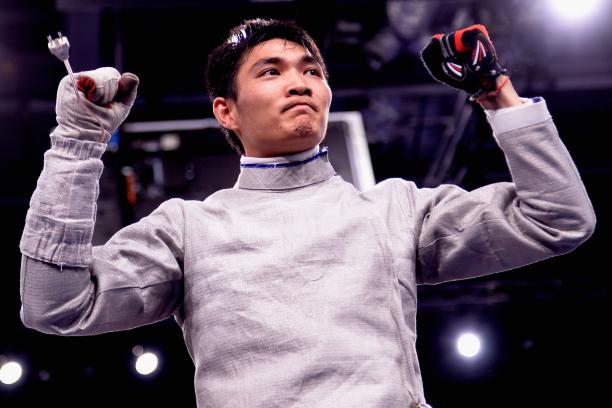 Yijun Chen
© • Getty Images
By Michael Stuart
Chinese wheelchair fencer Yijun Chen will not become complacent as he looks to continue his winning run at major competitions at the 2014 Asian Para Games in Incheon, South Korea, between 18-24 October.
After his heroics at the London 2012 Paralympic Games, where he announced himself to the world by knocking out multiple medal favourites on his way to two golds, Chen has been a force to be reckoned with.
Although he tends only to compete in the major international competitions, when he does, he usually wins gold.
The reigning Paralympic champion with the sabre, he also added World Championship gold in 2013 to his ever-growing list of titles by beating compatriot Jianquan Tian.
But despite this strong track record, Chen refuses to become complacent ahead of Incheon. His respect for those who will challenge him in South Korea is clear.
"I know I will encounter many talented fencers at the Asian Championships, both in the foil and sabre competitions," said Chen. "With all the challenges I will try my best to compete the way I want.
"My main opponents will be the ones from Hong Kong and my own team. They are more experienced than me and able to use the techniques freely. With opponents like that you have to concentrate."
After a run of strong performances, Chen said he is well prepared going into the competition. "My season was good so far, the training plan has gone well. The pre-event training lasted a few months and I had a chance to work on my physical ability and technique.
"I am happy to be able to compete at the Asian Para Games, because it will be a perfect opportunity to meet fencers from all over Asia."
However, it is unlikely that Chen's competitors will be looking forward to meeting him on the piste.
The current world and Paralympic champion's incredible form in major events can perhaps be attributed to a constant desire to improve. He views each tournament as an opportunity to better himself for the next.
"I will take the Asian Para Games seriously because here I can learn from other athletes with
different skills and improve myself for the future," he explained.
"My targets afterwards will be the World Championship next year and of course the Rio 2016 Paralympic Games."
The Asian Para Games will take place between 18-24 October and will feature 603 medal events across 23 sports.