#WorkoutWednesday: Germany's Vanessa Low
11.03.2015
The long jump world record holder gives us an insight into her day which can involve anything from lugging tractor tyres to watching a romcom!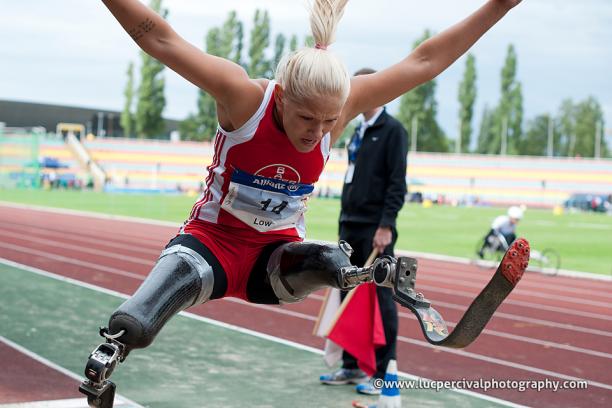 Vanessa Low jumped 4.19m in the long jump T42 at the 2014 IPC Athletics Grand Prix event in Berlin, Germany
© • Luc Percival
By IPC
Germany's Vanessa Low leapt to the top of the podium at the IPC Athletics European Championships in Wales, Great Britain, last summer, winning the long jump T42 – her first major championship title.
The 24-year-old followed that up just days later with a new world record at the IPC Athletics Grand Prix Final in Birmingham, Great Britain, with a jump of 4.60m.
Now with her sights set on clinching her first global title at October's IPC Athletics World Championships in Doha, Qatar, she talks us through her 'Workout Wednesday' from her home in Oklahoma, USA.
Vanessa Low's #WorkoutWednesday
I usually try to set my alarm for 07.00 or 07.30 in the morning, then I'll get up and go for a walk with my dog for an hour. I have a puppy called Milo; he's a Boston terrier, and he loves to run around and play.
Oklahoma is a big city, but it's not like New York. There is a park nearby with a giant lake – it's beautiful. Plus we have a big yard here at our house, so there's plenty of space for Milo to enjoy.
Back home I'll get breakfast – I usually have oatmeal with chia seeds, some fresh fruit and almond milk. Then it's time to study.
I finished my first University degree 18 months ago, then last year I decided I needed something outside of sport just to keep my mind working, so I'm studying long distance for another degree, this time in digital media. That means once or twice a year I'll go back to Germany to take some exams.
Around 13.00 I start preparing lunch. I always have meat or fish and a whole lot of vegetables, depending on what sort of training we have in store. Then at about 14.00 Milo and I head over to my coach Roderick Green's house.
Roderick is a former Paralympian, he won three medals at the Sydney Games in 2000, and he lives 20 minutes from me, out in the country with his wife Katrin. She and I roomed together when we both competed for Germany at the same time, and we became good friends. They have a big yard – and their own dogs – so Milo is happy. They also have a giant garage full of gym equipment, and that is where we train.
I've been training with Roderick since I moved out to the States after I finished my degree. There are a few of us in the group – athletes, and also guys from other sports like baseball and basketball, so our power sessions can be quite similar. We train next to each other and there is so much we can learn from each other as we all have different strengths and weaknesses. I really enjoy that.
Our sessions can last anything up to five hours. After a warm-up and drills we have a power workout with lots of body weight exercises and core exercises. Then we focus on fast powerful movements, lifting tractor tyres, hammer swings, or doing uphill sprints. Every day is different, and that's what I love. I can't remember two sessions ever being the same.
After the session I usually have a protein smoothie, and then sometimes we hang out together and watch a movie – we are all quite close friends. I love watching funny movies, or some kind of romcom. Otherwise I might have to go home and do some more study. I do just try to relax and not worry about anything anymore.
Dinner will be something small – maybe some bread with feta cheese and avocado, or a smoothie; just something little.
I usually walk Milo once more in the evening, then I'll head off to bed by about 22.00. I might call my boyfriend on the phone, but I don't have a television in my room; I need peace and silence before I sleep. Then once I'm gone, that's me – I'm a deep sleeper, and nothing will wake me until the morning. Well, maybe Milo.
Low will be one of around 1,300 athletes from 90 countries who will compete at the 2015 IPC Athletics World Championships in Doha, Qatar, between 22-31 October.