Workout Wednesday: South Africa's Ilse Hayes
07.10.2015
The South African who set a new 100m T13 world record earlier this year talks about how she is preparing for Doha 2015.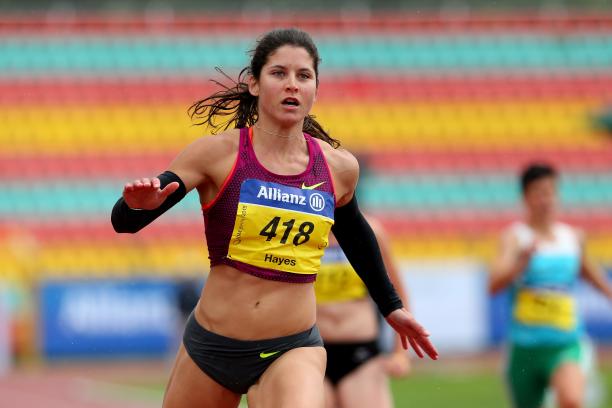 Ilse Hayes at the 2015 IPC Athletics Grand Prix
© • Getty Images
By IPC
South Africa's Paralympic and world long jump T13 champion Ilse Hayes enjoyed a terrific start to the 2015 season, clocking 11.89 seconds in the 100m at the Sao Paulo Grand Prix in Brazil back in April.
That time meant Hayes, a 100m world silver medallist in 2013, became the world's fastest female para-athlete, and although it was a title she later lost to Cuba's T12 sprinter Omara Durand, the 30-year-old will be hoping her impressive form on the track continues in Doha at this month's IPC Athletics World Championships.
Currently sitting top of the 2015 rankings in the 100m T13, here Hayes talks us through her 'Workout Wednesday' – the last in our series this year - providing a fascinating insight in to exactly what keeps her at the top of the world.
Workout Wednesday - Ilse Hayes
What is really important is for me to have a good night's rest, so the least I want to sleep is eight hours a night. We train at 10:00 in the morning, so I'll get up about 07.30 – about two and a half hours before. I like to have oats porridge in the morning, just to fill up the stores.
We will finish about 12.00 and during that time I'll maybe have a glucose drink too.
I live about five kilometres away from where I train in Stellenbosch – I can't drive myself so I use Uber. A lady used to drive me around but that got quite expensive, and I'd have to organise it the day before. But with Uber it's an App for your phone, and within five minutes they are there. My husband works flexi hours too so whenever he is around or works from home he can help me, or else I might go with my training partner Arnu Fourie, or my coach Suzanne.
I'll warm up, maybe with two laps jog – the first lap will be a normal jog, the second lap might be rhythm stuff around the track; some dynamic stretching. If it's together with a gym day we might do more of a speed session in the morning then the gym in the afternoon.
Training could be cone drills, fast feet drills, or speed work. With speed stuff you want to rest longer in between – it's more about quality then quantity. Other sessions might be more about speed endurance – running 250 metres then resting.
After that I'll go in the ice bath for about 10 minutes, followed by three minutes in a warm bath. That helps with the recovery ahead of the gym session in the afternoon. I'll head home for lunch and have maybe a chicken wrap or a chicken salad – I bake my own bread so I know what's in there. An hour before the afternoon session I'll have a bit of fruit and some nuts too, just to help get me ready. If there's enough time I'll have a power nap too, just for 20 minutes or so.
My gym session will last about an hour and a half, then I'll have a recovery drink before heading home around 17.00. My husband will get home around the same time and we catch up on the day. We love making food, it's good quality time together.
For dinner we like to try out new recipes - we might do a nice Indian curry – everything from scratch; we've been on cooking courses. We like a braai too – a barbeque outside - so we might do that with lamb or chicken and salad, or roasted veggies, or maybe a baked potato. If I'm still hungry I might have some natural yoghurt.
If we don't have plans for the evening we will just chill at home together, maybe read or watch a movie – just catch up. I like investigation books, or a bit of romance too. We have a fireplace in the house so we might make a fire, and my husband will have his book and I'll have my audible kindle. We always have something to say to each other – we can drive for 12 hours and always have something to say, he's like my best friend.
I might go to bed about 22.00, or 22.30, depending when I have to wake up. I'm quite a good sleeper, although sometimes my husband snores, so I give him a poke in the ribs!
Hayes will be one of 1,300 athletes from 100 countries competing at the IPC Athletics World Championships in Doha, Qatar, between 21-31 October.