Van Rhijn "seriously excited" by Rio 2016 after Brazilian visit
07.11.2014
The world's fastest female blade runner is counting down the days until the next Paralympic Games in less than two years' time.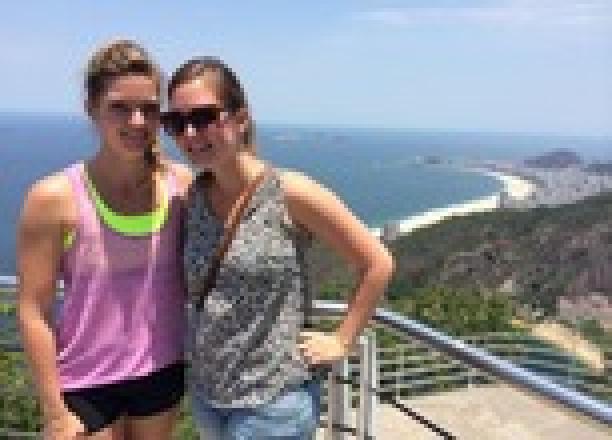 Marlou van Rhijn and her sister Suzanne enjoy the views from Rio's Sugar Loaf mountain.
© • Marlou van Rhijn
By IPC
"I am now very excited for the Games there. The views from the Village are spectacular and the scenery is amazing."
Dutch Paralympic and world champion blade runner Marlou van Rhijn has admitted she is "seriously excited" about the Rio 2016 Paralympic Games after recently visiting the city for the first time.
The 22-year-old T43 athlete was in Rio as part of the Ginásio Experimental Olimpico (GEO) school project which aims to educate youngsters through the values of sport and is supported by the Dutch National Olympic and Paralympic Committee.
During her time in the city, van Rhijn, who won 100m silver and 200m gold at London 2012, visited the Paralympic village as well as well as the Olympic Park and was impressed with what she saw.
"I loved it," said van Rhijn who since London 2012 has won two world and two European sprint titles. "I had no idea what to expect as I'd never been to South America, let alone Rio.
"The venues visit was great as I really got an impression about how it is going to be in 2016.
"It seriously increased my excitement for Rio 2016. I thought it was going to be tough for Rio to be as good, if not better than London 2012. However I was happily surprised at what I saw.
"I am now very excited for the Games there. The views from the Village are spectacular and the scenery is amazing.
"Although there is still some work to be done, you'd expect that anywhere with almost two years to go. I am confident everything will be ready on time and it will be very beautiful."
Either side of the Rio 2016 site visit, van Rhijn staged running clinics in the Santa Teresa neighbourhood of Rio, helping to inspire youngsters about Paralympic sport.
"It was so special to work with Brazilian children," van Rhijn said. "Although they really didn't know who I was, I was pleasantly surprised that they knew a lot about the Paralympic Games and Brazilian athletes.
"Normally when I go in to a school with little kids, they are sometimes afraid of seeing someone putting on running blades, but these kids knew what blades were and they really enjoyed doing sports."
Van Rhijn, the 100m, 200m, 400m T43 world record holder, is now back in the Netherlands and training hard for the 2015 season which will climax with October's World Championships in Doha, Qatar.
"At the World Championships we can qualify for Rio and now having been there, I want to go even more!
"Now that Rio is coming so close, you get even more motivated and you have to work very, very hard.
"In 2015, I want to get faster and will focus on the 100m and 200m sprints. I'll still put in a few 400m as it's good preparation work, but my priority is to get faster and defend my world titles."
The Rio 2016 Paralympic Games will take place between 7-18 September, whilst the 2015 IPC Athletics World Championships will take place between 21-31 October.