USA and Canada Still Unbeaten at World Sledge Hockey Challenge
29.11.2011
USA thumps Japan, Canda handles Norway on second day of competition.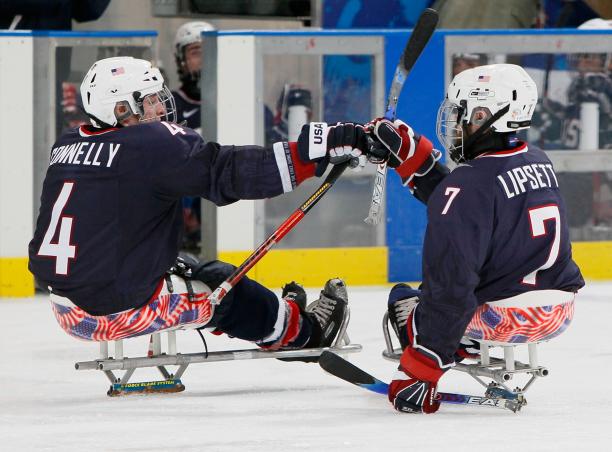 US Ice Sledge Hockey Team competing in Vancouver 2010
© • Getty Images
By IPC
Related Images
Canada's Ice Sledge Hockey Team competing
© • IPC
Both USA and Canada posted big wins again Monday (28 November) on the second day of the World Sledge Hockey Challenge in Calgary, Canada, as USA thumped Japan, 6-2, and Canada handled Norway, 5-2.
The Americans moved to a perfect 6-0 all-time against Japan, as Taylor Lipsett scored twice and added an assist and Nikko Landeros, Kevin McKee, Alexi Salamone and Jim Connelly all netted scores.
By the end of the first period, USA already led 3-0, so Mamoru Yoshikawa and Daisuke Uehara's goals for Japan in the second frame were not enough to close the gap.
USA outshot Japan on the day, 22-9.
Host nation Canada set up a match of undefeateds for Wednesday when Billy Bridges recorded two goals and an assist for the second night in a row in its victory over Norway. Bridges' two scores came in the first 4:14 of play.
With goals from Morten Vaernes and Rolf Pederson, Norway was able to close the gap to 3-2 toward the end of the first period, but Brad Bowden and Adam Dixon went on to score to pad the home squad's lead.
USA and Canada will now play in a showdown for first place Wednesday at 19:00 (MT), while Japan and Norway will battle for third place in the preliminary round at 12:00 (MT).
The semi-finals of the tournament will be held Thursday, with the medal round taking place Saturday.