Top swimmers in action on Day 8
06.09.2012
Australian star Matthew Cowdrey and South African Natalie Du Toit will defend their titles in the men's and women's 200m SM9 respectively.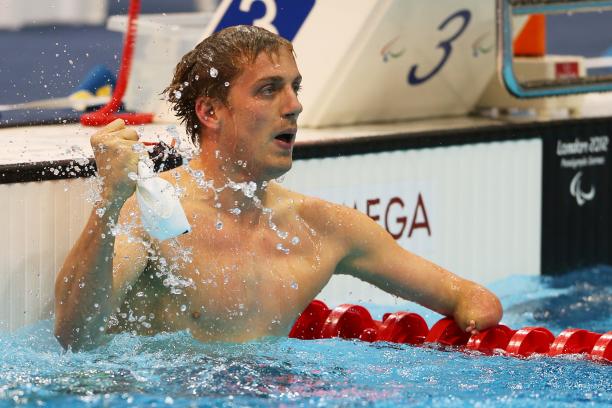 Australia's Matthew Cowdrey celebrates after winning gold at the London 2012 Paralympics.
© • Getty
Andre Brasil, who holds both the world and Paralympic records as well as the gold medal from Beijing in the men's 100m freestyle S10, will certainly be the one to watch in this event.
With records smashed on every day of the Paralympic swimming thus far, Day 8 has a lot of pressure to live up to.
Some of the top swimmers are in action once more on Day 8, including the newly-crowned Paralympic legend Matthew Cowdrey, who will be defending the title in the men's 200m SM9.
Cowdrey became Australia's most successful Paralympian of all times on Wednesday night (5 September) by winning his 11th gold and 19th medal overall.
"It's just special, there's no other word to describe it," said Cowdrey after winning the men's 50m freestyle S8 in world record time.
The women's alternative looks to be an exciting affair, with Natalie Du Toit setting about retaining her title from Beijing, but will face equally strong competitors in Sarai Gascon, Ellie Cole and Louise Watkin.
They are all tipped to make the women's 200m SM9 final and it will be a special moment for Watkin if so as she has recently stated how much of an inspiration Du Toit is to her.
She said: "I've known her since such a young age, she has basically seen me grow throughout this sport.
"I saw her the first time in the 2006 World Championships when I was only 14, maybe a bit younger. That's why I look up to her, because she's such an inspiration."
Jonathan Fox will be hoping for another gold medal when he faces off with Mihovil Spanja in the men's 400m freestyle S7 in an event that fox currently holds the world record in.
Once again, the rivalry between America's Jessica Long and Oleysa Vladykina will take another turn in the women's 100m freestyle S8. The pair have gone head-to-head on numerous occasions at these games with each race being tightly contested.
Long, who has the second highest amount of golds at these games behind Australian Jacqueline Freney, has won this title at the last two Paralympics, including Athens 2004 when she was just twelve.
However, she will also be pushed close by Great Britain's Heather Frederiksen, who beat Long to gold on Day 6 (4 September), with the British likely to threaten the podium once more. Catch the final of that event at 19:29.
But, arguably the most anticipated race of Day 8 is the men's 100m freestyle S10. A host of gold medallist lead the line-up, with three heats in the morning session before the 20:20 final.
Andre Brasil, who holds both the world and Paralympic records as well as the gold medal from Beijing, will certainly be the one to watch in this event.
However, with such a strong field, he will be pushed incredibly close by the likes of Andrew Pasterfield, Benoit Huot and Justin Zook who was the nemesis that pipped him to gold in the 100m backstroke on Wednesday (4 September).
With a further 15 gold medals up for grabs over eight different disciplines, Day 8 in the pool is certainly one not to be missed.