Suur-Hamari aiming to put ghosts of Sochi to rest
18.11.2014
Finnish snowboarder Matti Suur-Hamari is heading to the first races in Landgraaf, the Netherlands, with a fresh mind after a devastating 11th place finish at the Paralympic Winter Games.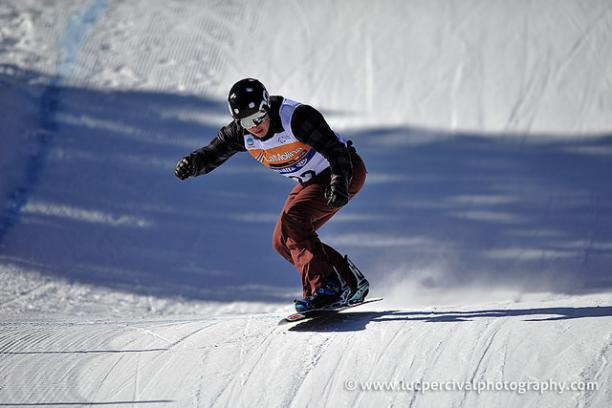 Finland's Matti Suur-Hamari recorded times of 39.29 and 39.96 in his two best runs on the final day of the IPCAS Snowboard World Cup in La Molina, Spain.
© • Luc Percival
By IPC
"I had a really good summer training and I am really excited about the upcoming season because we have banked slalom and head-to-head races in boarder-cross."
Finland's 2013-14 World No.3 para-snowboarder Matti Suur-Hamari will line-up at the IPC Alpine Skiing World and Europa Cups from Wednesday (19 November) in Landgraaf, the Netherlands, putting his 11th place finish from Sochi 2014 firmly behind him.
Suur-Hamari, 28, only made his debut one year ago at exactly the same venue, before going on to finish ahead of the likes of American Sochi bronze medallist Keith Gabel and New Zealand's seasoned rider Carl Murphy in the men's lower-limb impairment world rankings.
His performances propelled him to the Paralympic Winter Games on a wild card entry, but he admits that the weight of expectation after an impressive first season proved to be too much to handle there.
"The biggest thing was in my head, too much pressure," Suur-Hamari said. "It was the same course for everyone and the American guys did pretty good. I don't want to blame the course or the conditions because it was the same for everyone.
"My head wasn't ready for that race. I was pretty much competing with my mind."
Suur-Hamari is now ready for the new season, which will see a new discipline and format for snowboard cross - at the World Cup in Aspen, USA, riders will race two-by-two after an initial qualification round.
"Sochi has gone and it taught me a lot about competing," he said. "I had a really good summer training and I am really excited about the upcoming season because we have banked slalom and head-to-head races in boarder-cross."
He continued "I'm looking forward to Aspen. I'm really excited about that because it's a new place for the World Cups. And Big White [in Canada] is always good."
On the indoor slopes of Snowworld Landgraaf, Suur Hamari will line-up alongside nearly 40 other riders from over 10 countries looking to test themselves for the first time ahead of the 2015 IPC Para-Snowboard World Championships in La Molina, Spain, from 23-28 February.
It was in La Molina that he won his first ever World Cup race just one month before Sochi, to add to his podium finishes from previous competitions. He beat now Paralympic champion American Evan Strong, who inspired him to try para-snowboard after losing his leg in a motorcycle accident in 2009.
"I actually saw some YouTube videos when I was in hospital and it looked like fun - snowboarding with one leg!" he said laughing. "If somebody can do that then I thought 'I can do it also'."
Suur-Hamari enters the new season relaxed about his chances at La Molina 2015. "The first thing for the upcoming season is just to have fun and enjoy the racing atmosphere and let's see what happens," he said. "Of course I want to win.
"La Molina was good for me and I won the first World Cup race ever there. There is plenty of time for competing and many, many races before, so let's see."
Competitions kick-off in Landgraaf with the first ever banked slalom races at the Europa Cup on Wednesday, swiftly followed by a World Cup on Thursday (20 November). The circuit then moves to Aspen and Big White in January, before returning to Europe in February for races in Slovenia and Italy.
La Molina 2015 will gather around 80 athletes from 20 countries, the biggest gathering of para-snowboarders since Sochi 2014.