Rio 2016 ticket sales reach 1.5 million mark
05.09.2016
Brazil could win their first gold of the Games through Odair Santos in the men's 5,000m T11.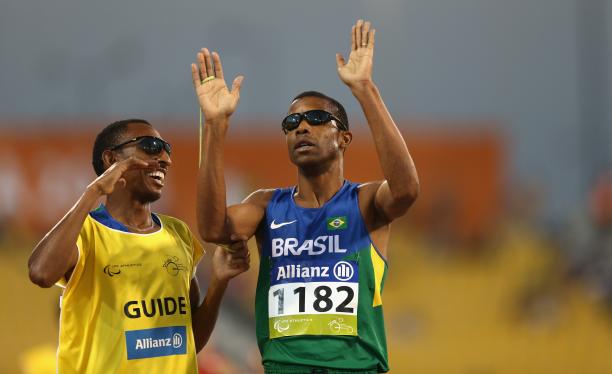 Odair Santos of Brazil celebrates winning the men's 1500m T11 at the 2015 IPC Athletics World Championships in Doha, Qatar.
© • LOC Doha 2015 | Getty Images
The Rio 2016 Paralympic Games achieved an important milestone on Sunday (4 September) as it reached 1.5 million tickets sold. Several finals are now, fully sold out. The Paralympic athletes can be prepared to display their amazing will and skills in fully booked venues.
While there are still around 1 million tickets available the rhythm of sales suggests that all the 2.5 million tickets will be sold.
"There has been an important change of the pattern as far as ticket sales are concerned. Firstly we saw a lot of energy coming from the Olympic Games and from people who just wanted to have access to the Paralympic Park at Barra. Now we see people, look for specific athletes and scheduled duels….to see sport as the main reason for people to buy a given set of tickets is very rewarding", said Mario Andrada, Executive Director for Communications with the Rio 2016 Organising Committee.
With the Brazilian team chasing a top five finish in the medals table for the first time, the host nation could win their first gold medal on Thursday morning (8 September) with Odair Santos competing in the 5,000m T11 at the Olympic Stadium.
Friday's track and field session could also be a highlight of the Games with the world's fastest male and female Paralympians in action.
Ireland's Jason Smyth - known in Brazil as "the white Bolt" after his participation at the Paralympic Festival in Rio 12 months ago – will aim to win his third successive 100m T13 Paralympic title on Friday (9 September) morning.
On Friday evening, the mouthwatering men's 100m T44 final will take place featuring the world's best blade runners. Great Britain's defending champion Jonnie Peacock will go head-to-head with the USA's Jarryd Wallace and Brazil's Alan Fonteles Oliveira for gold.
With such a line-up there is no surprise that the tickets are being sold very rapidly and that the atmosphere at the venues will be incredible.