Rio 2016 celebrates 500 days until the Paralympic Games with flash mob in Copacabana
26.04.2015
Dancers defy the rain in routine that brings together performers, including some in wheelchairs, from different musical styles.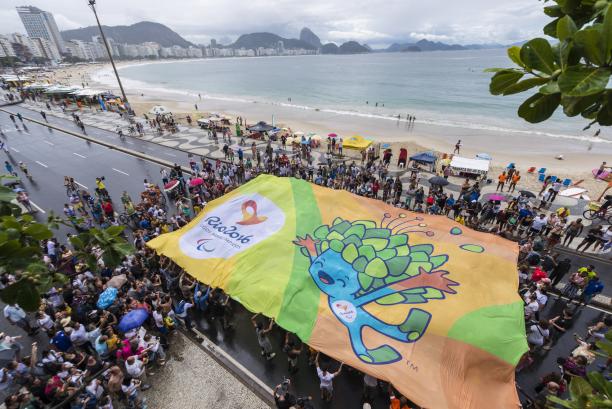 Rio 2016 celebrated 500 days to go until the Paralympic Games with a flashmob at Copacapana
© • Rio 2016
By Rio 2016
If the Paralympic Games are about overcoming challenges, then the celebration of 500 days until the Rio 2016 Games were perfect. Undeterred by a short but heavy downpour moments before, about 200 dancers performed an energetic flash mob alongside Copcabana beach on Sunday (26 April). As the Games themselves will be, it was quite some party.
"It was really cool," said Felipe Berty, a 21-year-old from Niteroi who was one of the wheelchair users who took part. "This shows the capacity of people with a disability to join in with these kind of things with people who don't have a disability. I'm very proud to be part of this celebration."
The performance started with a series of recorded voices announcing "500 days to the Paralympic Games" in a variety of languages, including French, Mandarin, Arabic, Spanish and Russian. Then the assembled group exploded into life to the strains of Rio de Janeiro by American soul singer Barry White, followed Xote de Copacabana by Brazilian artist Jackson do Pandeiro.
The dancers blended a variety of styles, from tradition Brazilian forms like samba and forró, to contemporary dance and hip-hop and Brazilian funk. Even Tom, the Rio 2016 Paralympic Games mascot, joined in.
"Each person came with their own style, and each of these added something special to the performance," said Robson Junior, a 20-year-old dancer from Rio, who said they had practised the routine for two days.
It included some spectacular acrobatic moves and the hoisting of a giant flag featuring Tom, the Rio 2016 Paralympic Games mascot. The performance was choreographed by celebrated theatre director and dancer Deborah Colker, the first Brazilian artist to receive a Laurence Olivier Award.
"The idea was to bring together different kinds of people and celebrate as one, joining people with different body conditions together in joy," she said. "The aim was to celebrate through dance, on the street, different kinds of movement. The Paralympic Games are a gift for Rio. Overcoming challenges are part of life for everyone and when we see people who overcome their problems, this is a real inspiration, more than any class or book."
This was a theme choed by Mariana Mello, Rio 2016's head of Paralympic integration, who said: "When Brazilians see up close the Paralympic athletes in action, and understand that their abilities are far great than their impairments, this will leave an immeasurable legacy for millions of people with a disability."
Mello added that with 500 days to go, preparations for the Games were in the final straight. "The athletes are already competing in qualification events and the Games organisers are finalising their plans and entering operational mode," she said. "Tickets will go on sale soon and fans will also be able to start preparing."
The flash mob was also a 'test event' for the Rio 2016 Culture Programme. "We want to take Brazilian culture to the streets during the Games, to surprise people and make them happy," said Carla Camurati, Rio 2016's head of culture. "Sport, education and art are crucial parts in creating good human beings."