Mixed doubles a hit at SA Open
07.05.2015
Players at Super Series tournaments can sign up for mixed doubles on-site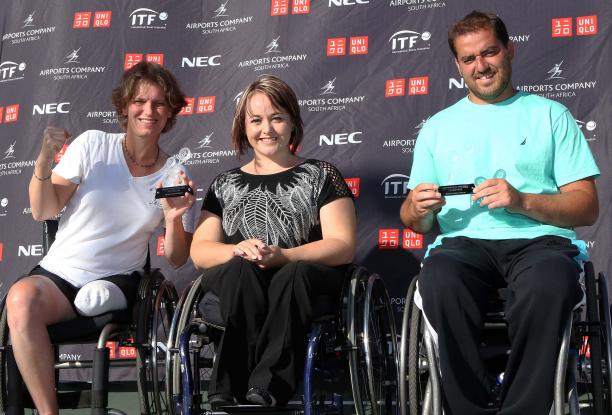 ACSA SA Open mixed doubles winners Charlotte Famin (FRA) and Asi Stokol (ISR) with Rose Van der Merwe, Wheelchair Tennis South Africa board member
© • Reg Caldecott
By International Tennis Federation
A field of eight partnerships competed in the latest mixed doubles draw to be a part of the Super Series events on the UNIQLO Wheelchair Tennis Tour. This came alongside the usual world ranking draws at Ellis Park Tennis Stadium in Johannesburg, South Africa, which hosted the Airports Company South Africa SA Open in April.
Mixed doubles draws see teams participate in matches of two short sets, with a deciding match tiebreak at one set all, where necessary. It was introduced by the International Tennis Federation (ITF) in 2013, when the ACSA SA Open was the first Super Series tournament to host a mixed doubles event.
Israel's Asi Stokol and France's Charlotte Famin were the strongest partnership in Johannesburg, winning the event in April without dropping a set. They emerged victorious, after toppling Daniel Caverzaschi of Spain and Emmanuelle Morch of France 4-2, 4-3 in the final.
Players at Super Series tournaments can sign up for mixed doubles on-site, and the draw sizes will be determined by the tournaments, based on the number of players who sign up.
For more information, visit the International Tennis Federation's website.