LOCOG Pushes UK Schools to Support Paralympic Teams
16.11.2011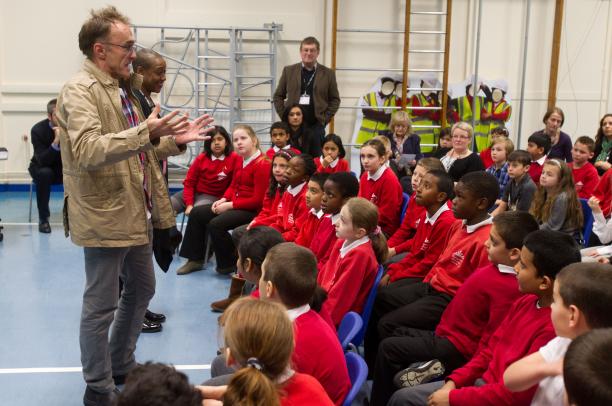 LOCOG have announced that the under 16s Volunteer Performer Cast for the London 2012 Olympic and Paralympic Opening and Closing Ceremonies will be selected from schools in the six Host Boroughs that are in the 'Get Set network', the official London 2012 education programme, and incorporating the Olympic and Paralympic Values into their curriculum.
© • Getty Images
"The 'Support a Team' initiative sounds (like) a great way for young people in the UK to learn about Zambia, our athletes and our culture."
LOCOG launched an initiative Wednesday (16 November) to encourage schools across Great Britain to support Olympic and Paralympic teams around the world in the run-up to the London 2012 Games next summer.
The project, launched to coincide with International Education Week and entitled "Support a Team," will help students prepare for the arrival of athletes and visitors from around the world to their towns, cities and communities prior to the Games.
Schools will be encouraged to learn about the athletes and cultures of their chosen teams, along with Great Britain's Olympic and Paralympic delegations.
Approximately 160 Paralympic teams will compete in London next year, and schools can choose their teams to support via an interactive map at www.london2012.com/getsetgoesglobal.
They may choose a team their community already has a link with or one that has a pre-Games training camp in their area.
Several schools have already chosen their teams, including the Perryfields Primary School in Oldbury, Great Britain. It will support Zambia's Paralympic team, and students are already beginning to research the country's athletes and languages.
"The 'Support a Team' initiative sounds (like) a great way for young people in the UK to learn about Zambia, our athletes and our culture," Zambian Paralympic Committee president Lango Sinkamba told LOCOG. "We hope all participating schools and in particular the young people at Perryfields Primary School enjoy learning about our nation and following the preparations of our team, and other teams, in the lead-up to the London 2012 Games, and we thank you for your enthusiasm."
Other schools that have already chosen their teams to support include: Beacon Community College in East Sussex (Iceland); Kirk Hallam Community Technology College in Ilkeston (India); St. Catherine's College in Northern Ireland (Suriname); Lasswade High School in Midlothian, Scotland (China, South Africa), Heolddu Comprehensive School in Wales (Australia); and Culloden Primary School in Tower Hamlets (Jamaica).
Schools will get the chance to showcase what they have learned about their teams during the London 2012 World Sport Day on 25 June, 2012. The ones that join the initiative prior to 16 December, 2011, will also secure an allocation of tickets to the games for those ages 10-18.