Goalball official impressed by Rio 2016
06.01.2014
Preparations for the goalball events at the Rio 2016 Paralympic Games took a big step forward in December with a visit to Brazil from Kari Rasanen, the Goalball Sport Director for the International Blind Sports Federation (IBSA).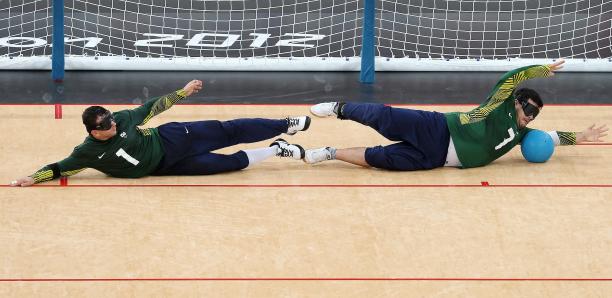 The Brazilian Goalball team at the London 2012 Paralympic Games
© • Getty Images
By Rio 2016
"We want to get more young people involved – this is our challenge"
Goalball will be one of 22 Paralympic sports at Rio 2016 where Finland's men and Japan's women will start as defending champions.
"The plans for the venue, which the architects showed me, are very good," Rasanen told www.rio2016.com.
"And the Paralympic Village concept seems to be very good too. The distances for our sports are very short so we shouldn't have any logistical problems, and I'm very pleased about that. I have a feeling that the Brazilians will put on great Games. It's a very nice city and I believe that the improvements to the transport system will be very helpful during the Games."
Rasanen, who is from Finland and has been involved with goalball for 22 years since he became a referee "by accident", was particularly impressed by the sustainable nature of the goalball venue project. Olympic Hall 4, which will be located in the Barra Olympic Park and will also host the Olympic handball events, will be dismantled after the Games and its parts used in the construction of four public schools.
"In the past there were experiences of having great Games, but afterwards these big buildings without any use, which unfortunately can be a waste of money," he said. "But in London and here in Rio the buildings will be used afterwards, and that's a very good thing."
Rasanen hopes the Brazilian men's goalball silver medal at the London 2012 Paralympics will help inspire big, passionate crowds in 2016 and help spread the sport.
"We want to get more young people involved – this is our challenge," he said. "Goalball is very popular in Europe, and I understand here in Brazil too, but we have to get young people from all over the world involved, rather than spending all their time on computers. I was very happy to see in London that the arena was full of cheering people, those were the best moments. And I believe we are going to experience that also here in Rio. It will be a full house and hopefully Brazil will be in the final."
Rio 2016's Goalball Sport Manager is Carla da Mata, a PE teacher who discovered goalball at university and refereed at the Beijing 2008 and London 2012 Paralympic Games. She has already seen the impact of the 2012 silver medal.
"I believe the Brazilian public will take to goalball because we have a big goalball community, which increased after London," she said. "We've developed a lot. We have people in every state in the country asking for goalball clinics and courses for coaches. They want to learn and play the sport."
To read the full article please click on the Rio 2016 website.