Get to know Dutch rider Rixt Van Der Horst
11.10.2015
The newly crowned double-European champion shares some interesting facts about herself.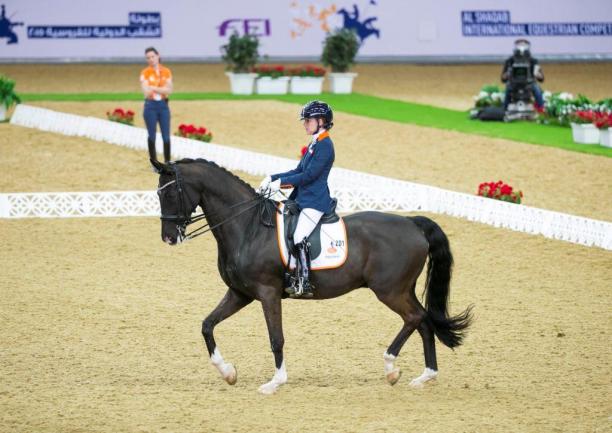 Rixt van der Horst
© • FEI
By Robert Howell | For the IPC
Last year, at the Alltech International Equestrian Federation (FEI) World Equestrian Games, the Netherlands' Rixt Van Der Horst was one of the biggest surprises.
Riding Uniek, Van Der Horst beat Great Britain's London 2012 double-gold medallist Natasha Baker to take both the individual and freestyle titles in the grade II competition. Those results repeated in September at the Para-Equestrian European Dressage Championships.
Here are 11 interesting things about the 23-year-old:
1. I started riding at the age of 5 as part of my physiotherapy. Also I loved horses from when I was a child.
2. My first competition was with my pony Kim, when I was 12. We competed with able-bodied riders and came second.
3. When I get on my horse I feel free, and together we can do anything we want. When I'm riding I most enjoy being at one with my horse, having fun riding together and achieving success together with my whole team.
4. But I don't like when it's winter and freezing cold outside and you have to ride. It's even worse for my body and muscles.
5. My goal is always to have lots of fun riding with my horses; that is number one. And winning a gold medal at the Paralympic Games.
6. I train very often for my physical health and fitness. I work on my balance, core stability and strength.
7. Before I go into the competition arena I prepare together with my trainer and groom Dorien. She takes care of the horse and I prepare myself by listening to some music or having a little chat with my coach about my ride. I like it when there are not too many people around me so I can do my things - my hair, get changed and prepare mentally.
8. The evening before a competition I always drink a little glass of wine. A competition once went very well when I did that and since then it is a lucky charm.
9. I like most sorts of music, like pop music and dance music.
10. I really admire riders like Great Britain's Lee Pearson, the multi-European, world and Paralympic champion. He's a very good rider and a great person and has won many medals already with different horses.
11. When people talk about Rio 2016 I'm very excited. I get a great feeling inside me and I will do everything to be part of the Dutch team next year and go win a medal.