Athletics and swimming set to feature on National Paralympic Day 2015 programme in Great Britain
26.02.2015
Event will take place on Sunday 26 July in Queen Elizabeth Olympic Park, London.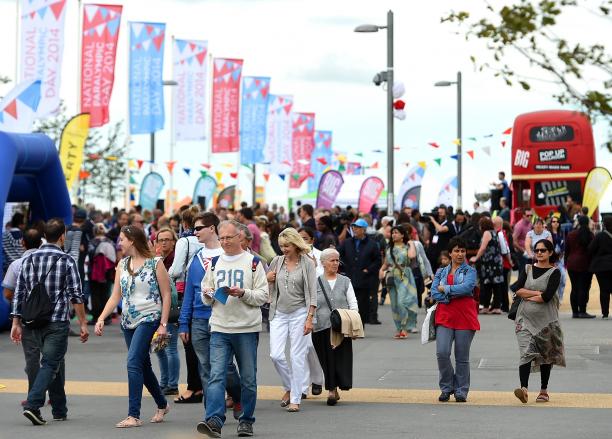 30,000 visitors enjoyed the action during the National Paralympic Day at the Olympic Park in London
© • Getty Images
By IPC
Fans of Paralympic sport in Great Britain are set to have the chance to see world-class sporting competition in both swimming and athletics on National Paralympic Day this year, as the event joins up with the final day of the Sainsbury's Anniversary Games on 26 July at Queen Elizabeth Olympic Park, London.
A huge favourite with fans at last year's event, swimming returns to the competition programme, with Paralympic and World medallists set to compete in the iconic London Aquatics Centre.
Meanwhile the IPC Athletics Grand Prix Final – the final day of competition at the Sainsbury's Anniversary Games – is due to be held on National Paralympic Day this year, with GB Paralympians set to compete in the former Olympic Stadium for the first time since it began its transformation.
Queen Elizabeth Olympic Park will provide the focal point of the National Paralympic Day action for the third time since the home Games. The day is a celebration of the wonder and inspiration of the Paralympic movement and an opportunity for people in the UK to come together to relive the magic of London 2012 and look forward to Rio in little over a year's time. In addition to the ticketed events, visitors to Queen Elizabeth Olympic Park can meet some of their Paralympic heroes, try out disability sport for themselves and also enjoy The Mayor of London's Liberty Festival, which showcases the nation's finest talent in Deaf and disability arts, all for free. As in 2014, National Paralympic Day is supported by Spirit of 2012.
Last year, some 30,000 people visited the Park to soak up the atmosphere and make the most of the full range of activities on offer. Building on last year's activity in Birmingham and Liverpool, celebrations are planned for at least two major cities to ensure the celebrations extend beyond the capital and it is truly a national Paralympic day.
Tim Hollingsworth, Chief Executive of the British Paralympic Association, said: "National Paralympic Day 2015 is shaping up to be bigger and better than ever before.
"As the countdown continues to Rio 2016, we remain every bit as ambitious to maximise the momentum from our home Games in 2012. There is still a massive appetite for Paralympic sport after London and National Paralympic Day is important because it gives people the opportunity to come together to cheer on our athletes and celebrate what they love about the Paralympics.
"I'm confident that people will seize the opportunity to be part of this unique event and snap up tickets to enjoy an exciting day of action in swimming and athletics as well as celebrate in many other ways and in many different locations across the UK."
British Swimming Head Coach Rob Greenwood said: "We are excited to be part of National Paralympic Day again in 2015 and the home IPC World Championships the week before in Glasgow should encourage the world's best para-swimmers to make the trip to London for some fantastic close racing.
"Last year was a great day for both athletes and spectators and the full capacity at the London Aquatics Centre made for a great atmosphere. The whole day allowed the public to experience both elite and grass roots levels of the sport.
"Just a year out from Rio racing opportunities are vital for our athletes and I know they will embrace this meet and deliver some fast swims."
National Paralympic Day is supported by Spirit of 2012, a charity, established by the Big Lottery Fund in 2013, to sustain the spirit and opportunities of the London 2012 Games by investing in projects that use events as catalysts for social change.
Chief Executive Debbie Lye said: "We funded National Paralympic Day last year and are delighted to be supporting this inspirational event again, in London and in locations across the UK. Spirit believes in challenging perceptions of disability. National Paralympic Day features remarkable disabled athletes, disabled volunteers who help run the event, and a host of opportunities for disabled people and their families to try out new sports and activities. It's a wonderful way of celebrating the Paralympic movement and promoting the incredible talent and potential of disabled people, in sport and society as a whole".
In addition to the event on Queen Elizabeth Olympic Park, regional events to celebrate National Paralympic Day across the UK will be announced in due course.
To register interest for tickets to National Paralympic Day and Sainsbury's Anniversary Games at Queen Elizabeth Olympic Park, visit the British Athletics website.