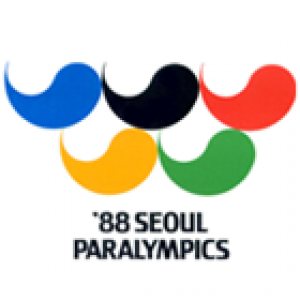 Republic of Korea
15 - 24 October 1988
Countries: 61
Athletes: 3,057
World Records: 971
Paralympic Games Records: 156
Sports: 18
Volunteers: 6,431
Top 5 Medals Table

Top 5 Medals Table

| Pos. | Countries | Gold medals amount | Silver medals amount | Bronze medals amount |
| --- | --- | --- | --- | --- |
| 1 | USA | 91 | 90 | 91 |
| 2 | GER | 76 | 66 | 51 |
| 3 | GBR | 65 | 65 | 53 |
| 4 | CAN | 55 | 42 | 55 |
| 5 | FRA | 47 | 44 | 50 |
Read more...

about Results following the link
The 1988 Paralympics marked the first time in 24 years the Paralympics took place in the same venue as the Olympics. The Seoul Paralympic Organising Committee (SPOC) had only a tangential relationship with the Seoul Olympic Organising Committee (SLOC), though it was substantial enough to recruit and train many of the sport and technical officials for the Paralympic Games too.
SPORTS
A total of 18 different sports took place at the Paralympic Games in Seoul, with athletics, swimming and wheelchair basketball stealing the show with each of the three sports displaying star-studded lineups. Judo made its Paralympic Games debut.
Archery Para athletics Boccia Cycling Football 7-a-side Goalball Judo Lawn Bowls Para powerlifting Shooting Para sport Snooker Para swimming Table tennis Sitting volleyball Wheelchair basketball Wheelchair fencing Wheelchair tennis
OPENING CEREMONY
The Opening Ceremony, held on 15 October, took place at the Olympic Stadium before a crowd of 75,000. A record number of 3,057 competitors from 61 nations took part in the athlete parade.
The new Paralympic flag was presented to the International Coordinating Committee (ICC) President, Dr. Jens Bromann, and the Games were declared open by Mr. Roh Tae-Woo, President of the Republic of Korea.
MEDALS
The USA swept the medal standings, winning 92 gold, 90 silver and 91 bronze to come away with 273 overall medals. Germany and Great Britain followed in second and third, respectively.
OUTSTANDING PERFORMANCES
Trischa Zorn, a visually impaired swimmer from the USA, won a total of 12 gold medals, including 10 individual titles and two relays. She set nine world records in the process.
Mustapha Badid of France established himself as the champion of men's wheelchair racing with gold medals in the 200m, 1,500m, 5,000m and marathon races.
Wheelchair athlete Franz Nietlspach of Switzerland won medals on the track in the 200m and 800m events.
Connie Hansen of Denmark took five golds in the 400m, 800m, 1,500m, 5,000m and marathon wheelchair races.
USA returned as a dominant force in wheelchair basketball, as the men's squad defeated the defending Paralympic champions, the Netherlands, and the women's team won their first-ever gold medal with a victory over Germany.
ATTENDANCE AND COVERAGE
There were a total of 2,368 media personnel on the ground for the Games, which became known as the first Games in the modern Paralympic era.
About 75,000 were in attendance for the Opening Ceremony, and a capacity crowd filled up the stadium for the Closing Ceremony.
Venues were packed for competition as well, as the women's wheelchair basketball final took place in front of 20,000 screaming fans.
CLOSING CEREMONY
The Closing Ceremony was held on 24 October and received loud cheers from the capacity crowd. It concluded with an extravagant fireworks display.