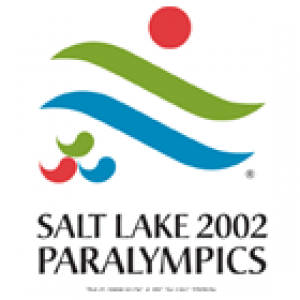 USA
07 - 16 March 2002
Countries: 36
Athletes: 416
Sports: 4
Spectators: 211,790
Top 5 Medals Table

Top 5 Medals Table

| Pos. | Countries | Gold medals amount | Silver medals amount | Bronze medals amount |
| --- | --- | --- | --- | --- |
| 1 | GER | 17 | 1 | 15 |
| 2 | USA | 10 | 22 | 11 |
| 3 | NOR | 10 | 3 | 6 |
| 4 | AUT | 9 | 10 | 10 |
| 5 | RUS | 7 | 9 | 5 |
Read more...

about Results following the link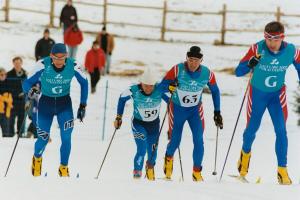 These skiers make their way up the hill during the Men's B2 Short Distance at Soldier Hollow.Mar 10, 2002photo by: J. Schapiro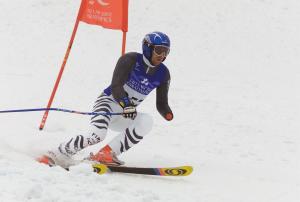 Decline of an athlete
SPORTS
Four sports were included on the programme in Salt Lake City, and all provided spectators with moments to remember, including the intense ice sledge hockey final match, which was won by the USA in a penalty shootout.
Para alpine skiing Para biathlon Para cross-country skiing Para ice hockey
TORCH RELAY
The Paralympic flame was carried by 100 runners throughout Utah, and stopped at places such as the Utah state capitol, All Abilities Play Park at Liberty Park and Shriner's Hospital, before reaching Rice-Eccles Olympic Stadium.
OPENING CEREMONY
On 7 March 2002, more than 40,000 spectators flooded Rice-Eccles Stadium to view the Opening Ceremony, which was based on the theme, "Awaken the Mind – Free the Body – Inspire the Spirit." Eric Weihenmeyer, the first blind man to successfully climb Mount Everest, carried the Paralympic torch to the podium. Guided by his dog, he passed it off to Muffy Davis and Chris Waddell – the top American sit-skiiers – who then jointly lit the Paralympic cauldron.
MEDALS
While the USA finished with the most overall medals (43), Germany actually came out on top of the final medal table with 17 golds. Norway, Austria and Russia rounded out the top five.
OUTSTANDING PERFORMANCES
The German team excelled heavily in the biathlon events, with Verena Bentele, Josef Giese and Wilehelm Brem all bringing home golds in their respective classifications.
Norway's Ragnhild Myklebust took the gold in all four of her cross-country races in the LW 12 classification, plus a gold medal in biathlon.
The USA and Norway played out a thrilling gold medal match in ice sledge hockey. Tied 3-3 following regulation time, the USA left the rink victorious after winning the penalty shootout.
ATTENDANCE AND COVERAGE
Due to a high demand of tickets, the total number made available was raised from 225,000 to 248,000.
A total of 836 media representatives were accredited for the Games, with several international broadcasting associations offering viewers highlight packages following the Games.
CLOSING CEREMONY
The Closing Ceremony embodied the theme, "Mind, Body, Spirit," and was held at the Olympic Medals Plaza. Gregory Smith wrote the 48 minutes of original music for both the Opening and Closing Ceremonies.