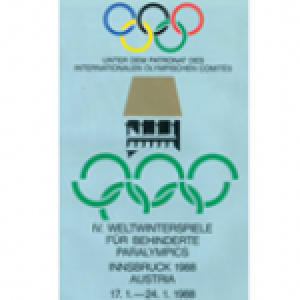 Austria
18 - 25 January 1988
Countries: 22
Athletes: 377
Medal events: 96
Sports: 4
Top 5 Medals Table

Top 5 Medals Table

| Pos. | Countries | Gold medals amount | Silver medals amount | Bronze medals amount |
| --- | --- | --- | --- | --- |
| 1 | NOR | 25 | 21 | 14 |
| 2 | AUT | 20 | 10 | 14 |
| 3 | GER | 9 | 11 | 10 |
| 4 | FIN | 9 | 8 | 8 |
| 5 | SUI | 8 | 7 | 8 |
Read more...

about Results following the link
Due to issues with the Calgary 1988 Organisational Committee in Canada, it was not possible to hold the Paralympic Winter Games at the same venue as the Olympic Winter Games that year. Thus, they were held again in Innsbruck, Austria.
SPORTS
Four different sports were a part of the programme at the Innsbruck 1988 Paralympic Games, as sit-skiing was introduced for the first time as an event in both the alpine and nordic competitions.
Para alpine skiing Para biathlon Para cross-country skiing Para ice hockey
MEDALS
Norway finished atop the medal standings with 25 golds, 21 silvers and 14 bronze, while host nation Austria came in second. Germany, Finland and Sweden rounded out the top five.
OUTSTANDING PERFORMANCES
Ice sledge speed racer Knut Lundstroem of Norway was the most successful athlete of the Games, winning four gold medals in the 100m, 500m, 1,000m and 1,500m races.
ATTENDANCE AND COVERAGE
Queen Silvia of Sweden came to visit the Games, revealing the connection between the royal family and the Paralympic Movement that existed since King Carl Gustaf was the patron of the Ornskoldsvik 1976 Paralympic Games.