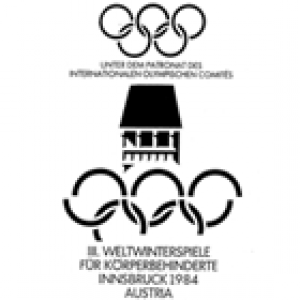 Austria
15 - 21 January 1984
Countries: 22
Athletes: 419
Sports: 3
Top 5 Medals Table

Top 5 Medals Table

| Pos. | Countries | Gold medals amount | Silver medals amount | Bronze medals amount |
| --- | --- | --- | --- | --- |
| 1 | AUT | 34 | 19 | 17 |
| 2 | FIN | 19 | 9 | 6 |
| 3 | NOR | 15 | 13 | 13 |
| 4 | GER | 10 | 14 | 10 |
| 5 | USA | 7 | 14 | 14 |
Read more...

about Results following the link
The Innsbruck Paralympic Winter Games were the first Winter Games organised by the International Coordinating Committee (ICC), which was formed on 15 March 1982, in Leysin, Switzerland. The Games were accessible for all those athletes with cerebral palsy.
SPORTS
Three sports were featured at Innsbruck in 1984, while an exhibition event – the giant slalom – was held for the first time. Thirty male three-track skiers took part in the exhibition.
Para alpine skiing Para cross-country skiing Para ice hockey
MEDALS
Host nation Austria dominated the medal table with 70 total medals – 34 of which were colored gold. Finland, Norway, Germany and the USA followed Austria in the medal standings.
OUTSTANDING PERFORMANCES
The most successful athlete of the 1984 Winter Games was German alpine skier Reinhild Moeller, who won three golds and a silver.