TRIATHLON

Wakako Tsuchida
10 October 1974
LATEST TRIUMPHS:

2018 World Triathlon Grand Final (World Championships) - Silver

2018, 2017 Para Triathlon Asian Championships – Gold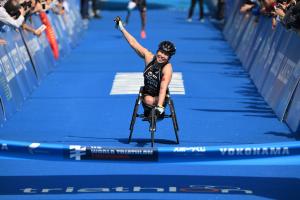 Two-time Asian champion Wakako Tsuchida had a stellar 2018 season and appears on target to star in her home Paralympic Games at Tokyo 2020. She was a minute shy of gold at the 2018 World Triathlon Grand Final in Gold Coast, Australia. But with more training, she might give her home crowd in Tokyo reason to rejoice.
The Japanese athlete has reached the podium in every competition she has raced in 2018, which was her first complete season in the sport. A medal at Gold Coast 2018 made up for her 'Did Not Start' at the 2017 edition.
If there is one other woman who could beat her to the top of the podium, it is Australia's Lauren Parker.
Parker is a relative newcomer to the sport and bumped Tsuchida to second at the 2018 World Para Triathlon Series in Iseo-Franciacorta, Italy.
However, Tsuchida does have experience on her side. She has competed at both Summer and Winter Paralympics, as well as World Major Marathons. She captured three Paralympic medals in wheelchair racing, including gold in the 5,000m T54 at Athens 2004. She also competed in ice sledge speed skating, winning two titles at her home Games in Nagano 1998.
Tsuchida lost both legs above the knee due to a traffic accident in 1992 and began playing Para sports during her rehabilitation.