PARA ATHLETICS

Tatyana McFadden
21 April 1989 St. Petersburg, Russia
LATEST TRIUMPHS:

London 2017 World Para Athletics Championships – gold: 200m, 400m, 800m, 1,500m T54

Rio 2016 - gold: 400m, 800m, 1500m, 5000m T54; silver: 100m, Marathon T54

Sochi 2014 Paralympics - silver: 1km cross-country sprint

Lyon 2013 World Championships - gold: 100m, 200m, 400m, 800m, 1,500m and 5,000m

London 2012 - gold: 400, 800 and 1500m T54; bronze: 100m T54
Find out about the full career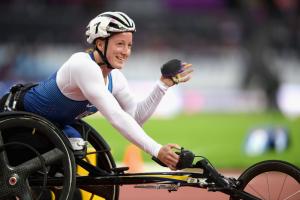 Tatyana McFadden is arguably the world's best female wheelchair racer of all time. With seven Paralympic titles, 15 world gold medals and over 20 major marathon wins to her name, the American has become a dominant force in women's wheelchair racing, both on the track and out on the roads.
Born with spina bifida in St Petersburg, Russia, McFadden was raised in an orphanage, where without a wheelchair, she was left to walk using her hands for the next six years.
In 1994, she was adopted by Debbie McFadden, who was working as the commissioner of disabilities for the USA's health department, moved to the USA and took up sport to help regain her health.
Ten years after moving to the States, McFadden represented her newly adopted country at the Athens 2004 Paralympic Games. At just 15 and the youngest USA squad member she won 100m T54 silver (16.69) and 200m T54 bronze (30.48).
Two years later at the 2006 World Championships, she won 100m T54 (16.31) gold and silver medals in the 200m (29.25) and 400m (54.25).
In Beijing, she came up against Canada's Chantal Petitclerc, an athlete in her prime who was determined to bow out on a high at her final Paralympic Games.
As a result of Petitclerc's world record-breaking form, McFadden had to settle for silver in the 200m (28.43), 400m (53.49) and 800m T54 (1:46.95) losing out to the Canadian in each of the races. She also picked up a bronze in the 4x100m T53-54 relay (1:02.16).
At the 2011 IPC Athletics World Championships in New Zealand McFadden took top spot in the 200m (29.33), 400m (54.88), 800m (1:51.10) and 1,500m (3:36.20) – setting Championship records in the two longer distances – she also won silver in the 4x 400m relay (3:57.39) and bronze in the 100m (16.83).
In London, her third Games, she finally won Paralympic gold not once, but three times. She was top of the podium in the 400m (52.97), 800m (1:47.01) and in the 1,500m T54 3:36.42). In the 100m she secured bronze (16.15).
At the 2013 World Championships in Lyon, France, she made history winning six golds in the 100m (16.42), 200m (28.69), 400m (53.74), 800m (1:44.44), 1,500m (3:34.06) and 5,000m (12:08.07). She also broke Petitclerc's 800m T54 world record.
In 2013 McFadden also became the first athlete ever to complete a marathon Grand Slam – winning in Boston, London, New York and Chicago, a feat she repeated in 2014, 2015 and 2016.
At the end of that year, McFadden graduated from University – she also set herself a new target to qualify for the US Nordic skiing team for the Sochi 2014 Paralympic Winter Games.
She not only made the team, but won a silver medal in the 1km cross-country sprint.
Soon after Sochi, McFadden returned to wheelchair racing, breaking the 1,500m T54 world record to complete another successful year.
She missed the 2015 World Championships but still found time to set new world records in the 400m, 800m and 1,500m T54. She also won a Laureus Sports Award.
At the 2016 Rio Games, McFadden contested a phenomenal seven events, from the 100m through to the marathon, as well as the women's 4x400m T53/54. She medalled in all six individual races, winning four golds (400m, 800m, 1,500m, 5,000m T54) and two silvers (100m, marathon).
The 2017 season had both highs and lows for McFadden, who missed much of the early part of the year due to severe blood clots in her legs which required surgery.
But when it came to winning medals, there was no stopping her.
Weeks after returning to training, McFadden lined up at the London 2017 World Championships – and won all four of the events she raced in, becoming the most successful female Para athlete of the Championships.
McFadden went on to win the Chicago marathon in October – her seventh consecutive victory in the US city.
She was named in the '30 Under 30 Class of 2017' by Forbes magazine.