WHEELCHAIR RUGBY

Stefan Jansson
8 March 1985
LATEST TRIUMPHS:

Rio 2016 Paralympics – Sixth

2017, 2015, 2009 European Championships – Silver

2013, 2011 European Championships – Gold

2007, 2005 European Championships – Bronze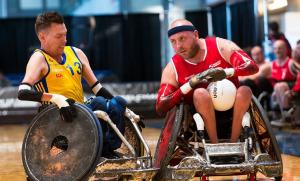 Sweden have been among the top wheelchair rugby teams in Europe over the years, and Stefan Jansson is one of the reasons why.
From starting his own club in 2006, Jansson has helped Sweden contend for the regional Championship podium in seven editions, including golds in 2013 and 2011. He is among the most experienced players in the Swedish squad, with the 2016 and 2012 Paralympics under his belt.
A silver medal in the 2017 Europeans secured Sweden a spot at the 2018 World Championship in Sydney, Australia, where Jansson was named on the all-tournament team.
In the last major test before the 2018 Worlds, Sweden competed in the 2018 Canada Cup with other top nations, and once again Jansson proved his efficiency as a 1.0-player on both ends of the court to earn him another recognition on the all-star team. Sweden finished in eighth place at the 2018 Worlds.