PARA POWERLIFTING

Sodnompiljee Enkhbayar
24 August 1985 Mongolia
LATEST TRIUMPHS:

2018 Asian Para Games – Gold: men's up to 107kg

2018 Asia-Oceania Open Championships - Gold: men's up to 107kg

2017 World Championships - Silver: men's up to 107kg
Find out about the full career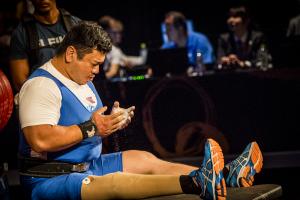 Sodnompiljee Enkhbayar has been steadily improving and making a name for himself in the powerlifting international scene. Most recently in 2018, the Mongolian became the men's up to 107kg man-to-beat in Asia as he secured gold at both the Asian Para Games in Jakarta, Indonesia, and at the Asia-Oceania Open Championships in Kitakyushu, Japan.
Those were his first major victories. He had previously taken bronze at the 2017 World Championships in Mexico City, as well as silver in the up to 88kg at the Rio 2016 Paralympic Games.
Enkhbayar has worked as an accountant at Ard Holdings, an investment company based in Ulaanbaatar, Mongolia.
In 1999, an illness resulted in his right leg being amputated.