CYCLING

Shawn Morelli
29 March 1976
LATEST TRIUMPHS:

2018 Road World Championships – Gold (road race, time trial)

2018 Track World Championships - Gold (pursuit)

2017 Road World Championships - Gold (road race, time trial)

2017 Track World Championships - Gold (pursuit, time trial)

Rio 2016 Paralympic Games - Gold (road time trial, track pursuit)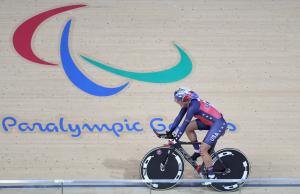 Shawn Morelli has become the face of US Para cycling thanks to outstanding performances at major events and is looking to extend her winning-streak at the upcoming Track World Championships in Apeldoorn, Netherlands.
Her most recent victory was in Maniago, Italy, where she claimed gold in both the women's road race and time trial C4 at the 2018 Road World Championships.
A few months earlier, she also topped the podium at the Track World Championships in Rio de Janeiro, Brazil, after winning gold in the women's individual pursuit C4.
One year before that, she enjoyed quadruple success, winning double gold at both the 2017 Track Worlds in Los Angeles, USA and Road Worlds in Pietermaritzburg, South Africa.
Morelli was serving in the US Army when she was injured in an Afghanistan bomb blast in 2007. She was left with neck and nerve damage and lost the sight in her left eye. Three years later, she took up cycling.
When she is not on the bike, Morelli can be found coaching football at school, mentoring kids at a local community centre and talking to health classes. She also graduated with a degree in history in 1998.