GOALBALL

Sevda Altunoluk
1 April 1994 Turkey
LATEST TRIUMPHS:

2018 World Championships - Silver

2017 IBSA European Championships - Silver

Rio 2016 Paralympic Games: Gold

2015 IBSA European Championships: Gold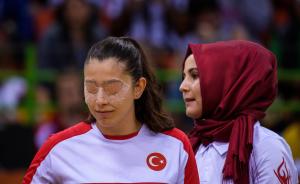 Sevda Altunoluk has been a crucial member of the Turkish women's goalball team for some years. Most recently, she led Turkey into the 2018 World Championships in Malmo, Sweden, with her aggressive throwing style.
Altunoluk could not prevent Russia from beating Turkey 4-3 in the final, but still left as the overall tournament top-scorer with 46 goals.
She was also the key player of the Turkish team who took silver at the 2017 European Championships. Russia emerged triumphant again despite Altunoluk scoring three goals in the final.
Altunoluk achieved glory for her team at the Rio 2016 Paralympic Games. She scored 36 points throughout the event, including three in the 4-1 victory over China in the final to finish as the competition's top scorer.
It was Turkey's first Paralympic gold medal in women's goalball.
When Altunoluk is on top form, there is little her rivals can do. She also proved it in 2015, when she helped Turkey claim their maiden European title in Kaunas, Lithuania, ending as the event's top scorer.